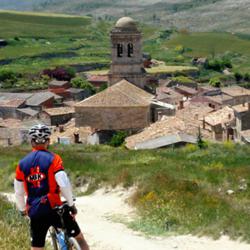 "We're very proud of the inclusion of our Spain bike tours in Frommer's Spain 2012," said Jim Goldberg, owner of Easy Rider Tours.
Newburyport, MA (PRWEB) April 20, 2012
Easy Rider Tours has been named the leading US-based bike tour outfitter by Frommer's Spain 2012. The bike tour company, which has just kicked off its 27th season of tours, offers six different itineraries in Spain. The Pyrénées to the Sea tour is on sale through the end of April. Guests who make reservations by April 30, 2012 will receive $200 off the cost of the tour.
"We're very proud of the inclusion of our Spain bike tours in Frommer's Spain 2012," said Jim Goldberg, owner of Easy Rider Tours. "We have worked with our fantastic local guides for many years to create unforgettable cycling, touring, and dining experiences for our guests. Spain is a magical country with diverse regions and cultures, and we enjoy being able to provide a variety of tours; there's something for everyone."
Easy Rider Tours offers the following bike tours in Spain:
Viva Andalucía!
Southern Spain at its best: Flamenco, gazpacho, and Moorish intrigue biking from Córdoba to Ronda are included in this off-the-beaten-path trip. Tour the Alhambra, learn to make paella at an authentic country cortjo, and cycle through Sierra de Grazalema Natural Park, a UNESCO biosphere reserve.
Pyrénées to the Sea - Catalonia & the Mediterranean coast - Save $200 - Reserve by 4/30!
In Catalonia, mountains meet the Mediterranean on the border of Spain and France. Experience Catalan art and architecture, Lance Armstrong's training roads, French and Catalan cuisine, and more.
El Camino de Santiago (11 days) - Epic pilgrimage route
Pedal this ancient pilgrimage route, starting in Burgos and ending in Santiago de Compostela, where cyclists celebrate their certificate of completion with a stay in five-star accommodations at the Parador Hostal de los Reyes Católicos, which has housed pilgrims since it was built in 1501.
El Camino de Santiago (8 days)
This shorter version of the Camino de Santiago bicycle tour, begins in León and is ideal for those who have less time or would like to spend fewer days cycling.
Segovia to Salamanca - The Gredos and Castile
Spin through the heart of Spain and take in breathtaking views of the Sierra de Gredos, visit storied cities of Old Castile, and experience the vibrancy of Salamanca's university quarter.
Land of La Mancha – A cyclist's "impossible dream"
This relatively easy bike tour brings Don Quijote's tale to life on the Ruta del Quijote from Cuenca to Toledo. Iconic windmills, vineyards, and a route with many roads closed to traffic make this tour ideal for cyclists of all levels.
For departure dates and for more information on what is included in Easy Rider Tours' bike tours of Spain, visit easyridertours.com/spain.html.
About Easy Rider Tours
Since 1986, Easy Rider Tours has specialized in biking vacations in Spain, Portugal, Ireland, New England, and the Canadian Maritimes. Each of Easy Rider Tours' itineraries provides the company's signature balance of cycling, culture, local hospitality, and cuisine, delivering the experience of a lifetime to active travelers worldwide. For more information visit easyridertours.com.