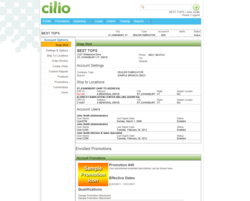 It is an honor to have the Cilio Partners Portal recognized as the transformational product that it is
Brookfield, WI (PRWEB) April 23, 2012
Cilio Technologies, LLC, the leading specialist in automated order distribution and management of installed sales for the building materials industry, today announced that BizTimes Milwaukee has awarded the Cilio Partners Portal with its IQ (Innovation Quotient) Award. The IQ Awards celebrate innovations in business and recognize companies with "the most innovative, clever and unique products, services or processes."
The Cilio Partners Portal is a web-based platform for managing installed sales orders for retail home improvement stores and manufacturers. Installed sales orders include counter tops, cabinets, windows, doors, flooring and other installed products and they are typically managed by a manual, paper-based system. The Cilio Partners Portal captures orders electronically via a single, consistent process and distributes those orders automatically to the proper partners within the channel making the order available for viewing any time, from any computer or mobile device.
"It is an honor to have the Cilio Partners Portal recognized as the transformational product that it is," stated Randy Olejnik, president of Cilio Technologies. "With the Cilio Partners Portal, we want to completely transform the way the building materials industry manages its installed sales products, creating a more efficient order and product management process and giving home retailers, manufacturers and fabricators an opportunity to save money, grow their installed sales business and better please their customers."
It is estimated that installed sales programs account for nearly 20 percent of the $155 billion home improvement retail business. This leaves significant room for cost savings and growth. Cilio Technologies estimates that for just three of its customers, they were able to save nearly $1.1 million in 2011. Built using emerging cloud-based technology, the Cilio Partners Portal is available as a Software-as-a Service (SaaS) solution, meaning that it does not require expensive investments in hardware, software or custom development, and it can be up and running within as little as 30-days. The technology is so promising that one of the U.S.'s largest home retailers is using the Cilio Partners Portal for select installed sales product categories.
About Cilio
Cilio Technologies, LLC offers a secure, web-based platform to automate distribution and management of installed sales and associated purchase orders for retail home improvement stores and manufacturers. The Cilio Partners Portal brings together trading partners and orders in a single environment, enabling better communication and total visibility into each and every sales order – from creation through completion. Companies gain insights that help reduce the time and cost of order distribution and management, manage trading partner networks, build new sales channels, and increase revenues. Customers include Lowe's Companies, Cosentino Group, Sage Surfaces, Origin Point Brands, and LG Hausys America. Formed in 2001, Cilio Technologies is at the forefront of the software as a service (SaaS) revolution in the installed sales space. Learn more about Cilio Technologies at http://www.ciliotech.com.