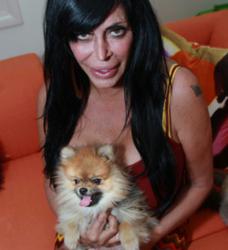 Washington, DC (PRWEB) April 19, 2012
RealityAired.com recently sat down with Mob Wives' Angela "Big Ang" Raiola at her home in Staten Island and her sister Janine Detore to discuss their upcoming show, "Big Ang".
In an exclusive interview Big Ang shared details about her life, her home and her "baby" Little Louie – one of the stars of "Big Ang". The article, found on RealityAired.com, illustrates the life of Little Louie, including his designer duds, custom-made Louis Vuitton collar and lavish toys. The story also takes a trip through Big Ang's home, explaining her style and décor. "If you wanted me to describe my house, it would be 'zebra,'" Big Ang says
Also featured is Janine's story, including her family, her clothing store 'Country Mouse' and her relationship with her big sister. If it's one thing that pushes Janine's buttons it's someone trying to get over on Big Ang, "If someone's trying to make a fool out of her I will bust someone's s**t" she says.
Read the entire article on RealityAired.com, with exclusive photographs taken of Big Ang, her home, Little Louie and Janine's store 'Country Mouse'. "Big Ang" premieres on VH1 this summer.
About RealityAired.com
RealityAired.com has up to the minute information (24/7), news, photos, videos and recaps on some of the most popular reality TV shows on air today. From the Jersey Shore to The Real Housewives, RealityAired.com covers everything that is need- to-know for reality TV viewers and addicts alike.
About Valdez Media
Valdez Media, Inc. was founded in early 2011. Valdez Media aims to create a network of entertainment avenues for a variety of audiences that cover television, film, sports, music and fashion. Valdez Media, Inc. is based out of the Washington D.C. metropolitan area.