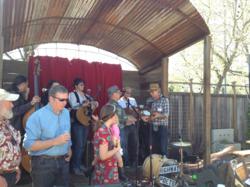 " I love working with Heritage Salvage and choosing reclaimed materials. I go to Bug with these crazy two-dimensional ideas, and Bug turns them into beautiful three-dimensional realities that you see in our Taverns. It is an honor to receive this award."
Petaluma, CA (PRWEB) April 20, 2012
The Heritage Salvage Emerald Environmental Award recognizing businesses practicing sustainability by using reclaimed wood in their establishments was recently presented to Dean Biersch, Hopmonk Tavern. Biersch received the first Emerald Award for his dedication to sustainable practices and for using old wood, reclaimed flooring and recycled materials in both Hopmonk Tavern locations, Sebastopol and Sonoma, California.
"We created the Emerald Award to recognize and raise awareness of businesses that are making a significant commitment to sustainable practices by choosing to use materials that are reclaimed and recycled in creation of their spaces. We have proven with our extensive customer base that going with old wood to create something new and beautiful is a winning choice", says Michael "Bug" Deakin, Heritage Salvage. Bug adds that one of the secrets to being chosen for this prestigious award is the ability to practice sustainable enthusiasm.
Biersch practices sustainable enthusiasm. He is enthusiastic about what he does. He treats his staff like family and they love to work for him. That is the epitome of sustainable enthusiasm. His choice to hand select reclaimed materials for use in building Hopmonk Tavern locations earned him the newly established Emerald Award.
Reclaimed wood sources and their uses include:

Yakima Hops Warehouse Shiplap:
Flooring and Wainscoting in the Abbey

Moscow Idaho Granary Shiplap for Fencing
Tables and Benches in the Beer Garden from reclaimed cedar and fir
Colusa Lumber Company 1907 wood and corrugated metal:
Band Shell and Stage in the beer garden

Colusa Lumber Douglas fir 1x8s: Beer Garden Fence
Old growth redwood from a Pt. Reyes fire: Leaning Drink Bar Rail
Biersch upon receiving the Emerald Award shared, " I love working with Heritage Salvage and choosing reclaimed materials. I go to Bug with these crazy two-dimensional ideas, and Bug turns them into beautiful three-dimensional realities that you see in our Taverns. It is an honor to receive this award."
Hopmonk Sonoma has shiplap flooring and an outdoor beer garden deck reclaimed from Yakima Hops Warehouse. Other ingredients from old structures, which found new life at Hopmonk include:

Senator Kerr Douglas Fir Decking:
Outdoor Beer Garden

Southern Illinois University (SIU) Indoor Gymnasium Row Letter Bleacher Boards:
Indoor Table tops

SIU Bleacher Boards & Sequoia High School:
Bar Top and Bar Back

Reclaimed Douglas Fir, Friedman's Bone Yard:
Beer Garden Tables & Benches

Sonoma Valley High School Bleachers (3 blocks from Hopmonk Tavern):
Metal Accents on Beer Garden Tables and Benches.
About Heritage Salvage
Heritage Salvage has been providing reclaimed wood solutions for 10 years in flooring, siding, tables and more. Heritage Salvage also builds custom barn doors, tables, bar counters, and can essentially build anything out of reclaimed wood. The company also has a complete metal fabrication and welding shop.
Heritage Salvage may be visited Monday 9-4,Tuesday through Friday from 10-5 and Saturday 10-4 at 1473 Petaluma Blvd. South, Petaluma or at http://www.heritagesalvage.com