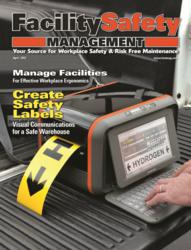 Portland, OR (PRWEB) April 24, 2012
Graphic Products, Inc., creator of the highly successful IT-independent DuraLabel Toro labeling system, scored another major honor: the entire front cover of the April 2012 issue of Facility Safety Management. FSM reaches an estimated 30,000 industrial hygienists, safety managers, plant managers and manufacturing engineers in the chemical, coal, metals, healthcare, government, construction and transportation industries. Also included in the April issue is a Graphic Products article entitled, "Create Your Own Safety Labels: Foster a Safer Warehouse via Visual Communications."
Readers will see the DuraLabel Toro "in action" from the back of a user's pickup truck – illustrating the printer's mobility and IT independence. Toro is used to create safety signs and labels for pipe marking, arc flash, warehouse safety and more.
DuraLabel Toro combines a full-sized flip-down keyboard, tilting touch screen, OSHA-ANSI compliance software into one durable, mobile standalone thermal transfer printer. Toro and its software was designed by Graphic Products' engineers and is completely assembled at the Graphic Products campus in Portland, Oregon. The DuraSuite labeling software pre-installed in the Toro printer was also developed in-house by Graphic Products software engineers.
Toro does not need IT support or connectivity to a computer. "We engineered Toro to be network independent because that's what our customers requested," said DuraLabel Chief Marketing Officer, Steve Stephenson. "Many government agencies and industrial IT departments have strict security rules about connecting label printers and other peripheral devices to their networks. Toro has its own customized software so it doesn't need a network."
Network independence plus Toro's rugged, lightweight design and optional battery power make it ideal for printing labels and signs at several locations within the same facility or even at remote sites. Toro's battery provides sufficient power to print labels continuously for three hours without recharging. Optional soft shell and hard shell travel cases are available for taking Toro on the go.
Toro's embedded software includes QLabel-IV for barcoding, DuraSuite with hundreds of templates and symbols for pipe marking, arc flash, NFPA diamond labels and RTK bar labels and more than 1,600 common hazard and PPE symbols. Toro software also lets you create and save your own custom label designs.
Toro's thermal-transfer technology produces durable labels and signs from one-half inch to four inches wide at any length needed. It prints up to three inches per second at a crisp 300-dot-per-inch resolution giving you high quality labels and signs fast. No other industrial label printer on the market offers the independence, flexibility and mobility of Toro.
With more than 50 unique labeling supplies, Graphic Products, Inc. is equipped to solve problems in the industrial safety arena, offering supplies suitable for nearly any type of application including arc flash, pipe marking, facility safety, mining, food processing and construction.
Graphic Products carries a broad spectrum of thermal transfer printers, free technical support/after-sale service, multi-year warranties on printers and supplies as well as satisfied customers throughout the world including P&G, Amazon.com, Georgia-Pacific, Boeing, John Deere, Conoco, Sara Lee, Toyota and General Electric. For more information, visit DuraLabel.com.