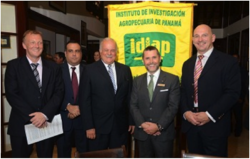 Over the next decade we could see more than 10,000 hectares of Jatropha under cultivation in Panama
London, UK (PRWEB UK) 23 April 2012
Biodiesel experts Panama Green Fuels have after many months of discussions reached agreement with the equivalent of the National School of Agriculture in Panama to collaborate in an extensive series of detailed agronomy trials overseen by global Jatropha experts, Quinvita.
In a quid pro quo arrangement, Panama Green Fuels have agreed to transfer cutting edge agronomy practices and seed technology to the school and to work with them over the coming years to ensure knowledge is current and pupils have access to the very highest quality information and data. The trials are targeting poor quality marginal land that is insufficiently fertile to support human food crops and is currently used as low quality grazing land. Over the next couple of years these trials will pave the way for more than 10,000 hectares of Jatropha plantations throughout suitable areas of marginal land in Panama.
"This is a fantastic start for us in Panama and assuming that our trials are successful, then this paves the way to create thousands of much needed jobs in poorer rural communities, on a fair and equitable basis", said Adrian Harvey, Chief Executive of Panama Green Fuels.
Henk Joos, Chief Executive of Quinvita NV, the Jatropha agronomy experts retained as partners of PGF said "This is an important milestone and I am delighted that the Government in Panama recognise that the cultivation of a crop like Jatropha requires significant expertise and have lent their support so overtly".
The formal document was signed in front of hundreds of guests at a recent event at the UK Ambassadors' residence, celebrating the Queen's Diamond Jubilee. "We have been immensely fortune to be supported so comprehensively by HE MJ Holloway and his team from UKTI in Panama", said Harvey, "It is not surprising that UKTI in Panama are the UKTI's global top performers, we simply couldn't have done this without them".
"I am delighted with the enthusiasm, interest and support that we have received from so many influential parties in Panama. It is heartening to see how serious Panama is about achieving its environmental, social and fuel security objectives", said HE MJ Holloway. "Panama is awash with opportunity and it is pleasing to see British companies at the forefront of commercial initiatives like this one".
For additional information please contact Adrian(at)panamagreenfuels(dot)org or visit http://www.greengiraffe.org
-ENDS-
Notes to Editors:
Panama Green Fuels
Established in 2011 with the express purpose of helping Panama to fulfil the obligations laid down in Law 42, 2011 by creating the bio diesel infrastructure for Panama. The objectives of the law are to provide energy security to Panama, eliminate energy poverty, regenerate marginal land and to provide widespread employment in poorer rural communities of Panama.
PGF is a private company funded by environmentally and socially conscious UK investors. It operates as a social enterprise where 50% of the equity of the business is gifted to local farmers who under strict supervision of PGF, will cultivate many thousands of hectares of Jatropha.