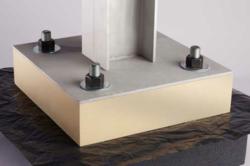 "We look forward to an outstanding show with CSI and great customer interest in our new products."
TACOMA, Wash (PRWEB) April 21, 2012
General Plastics Manufacturing Company will be participating in the 2012 IARW-WSLO Convention & Expo for refrigerated warehousing and logistics professionals in Tucson, Arizona. It will be exhibiting jointly April 23-26 with its cold-storage distribution partner CSI at booths 515 and 513. The companies will spotlight General Plastics' premier LAST-A-FOAM® R-9300 Thermal Column-Bearing Block Series and launch new construction-related products for industrial facilities.
"Beyond showcasing our LAST-A-FOAM® R-9300 Column-Bearing Blocks, this show is a great opportunity to introduce new product applications that capitalize on combined structural support and thermal properties," explained General Plastics President Bruce Lind.
"We anticipate strong interest in our cost-effective, high-performance bearing block technology for floor reinforcement and roof isolation blocks, and for perimeter fall protection," Lind noted. "Customers will benefit from CSI's responsive service and ready technical expertise to help them select, spec and use the right LAST-A-FOAM® products for their particular application and project."
The new construction applications for these sturdy, insulating LAST-A-FOAM® blocks include:
LAST-A-FOAM® FR-7100 Floor Reinforcement Block Series – Offers economical load-bearing shelving support inside cold-storage facilities while preventing thermal energy loss between the floor and ground. The stable polyurethane stock material eliminates the need for other thermal protection, such as gypsum foam.
LAST-A-FOAM® R-9300 Roof Isolation Block Series – Serves as added roofing insulation and support for HVAC and other heavy equipment on commercial buildings with flat roofs. It prevents radiant heat transfer to the building's interior, keeping buildings cooler and reducing energy costs.
LAST-A-FOAM® R-9300 Perimeter Fall Block Series ¬– Provides a key element of a commercial or industrial roof safety system. Sturdy blocks are custom-cut and pre-drilled with anchor bolt holes for securing to the surface of roof structures. The high-density material provides greater load-bearing ability and durability than wood.
"While we have already been providing customers with these new product lines, and they're earning rave reviews, the reach of this event gives us the platform to launch them on a global scale," Lind added. "We look forward to an outstanding show with CSI and great customer interest in our new products."
About General Plastics Manufacturing Company
Tacoma, Washington-based General Plastics has been a leading innovator in the plastics industry for more than 70 years. The company develops and manufactures rigid and flexible polyurethane foam products, which include its signature LAST-A-FOAM® brand series and build-to-print composite parts. Through its network of distributors, General Plastics exports products to 25-plus countries for the aerospace and defense, nuclear containment, composite core, prototype and modeling, construction, dimensional signage, testing, marine and the renewable energies industries. General Plastics is certified to ISO 9001:2008/AS9100C and meets such demanding quality systems as NQA-1, Mil-I-45208A and Boeing Company D6-824. Visit http://www.generalplastics.com.
About CSI of Virginia, Inc.
Based in Richmond, Virginia, CSI of Virginia is a partnership of companies with 11 sales offices strategically positioned throughout the United States. It is the exclusive distributor of premium products for commercial, industrial and cold-storage facilities, which range from walk-in boxes to 500,000-square-foot refrigerated warehouses, and from automobile dealerships to aircraft manufacturing facilities. Visit http://www.csiinc.org.