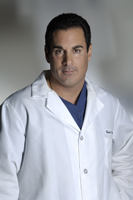 Number one, patients need to make sure they're dealing with a board certified plastic surgeon.
New York, NY (PRWEB) April 19, 2012
Well-known plastic surgeon, Dr. Michael Fiorillo, appeared this week on the hit ABC talk show, "The View." He was featured along with his patient, Renee Graziano, star of the wildly successful reality television series, "Mob Wives." Although he appears regularly in the national media, Dr. Fiorillo feels that this particular segment well highlighted the importance of patient safety and education.
"Patients need to do their homework before undergoing any cosmetic procedure," explains Dr. Fiorillo. "If there's anything folks can take away from this television appearance, I hope it's that." During the segment, Dr. Fiorillo was asked to explain Ms. Graziano's failed "full body lift" procedure, which was performed by a different surgeon. Moreover, as the doctor who is performing her revision work, Dr. Fiorillo explained how he and his team are correcting Ms. Graziano's current condition.
Reflecting on his recent talk show appearance, Dr. Fiorillo also offered some advice for patients seeking out a plastic surgeon for the first time. "Number one, patients need to make sure they're dealing with a board certified plastic surgeon. It's your best line of defense against unqualified care." In the US, to be called a board certified plastic surgeon, you must be officially recognized by the American Board of Plastic Surgery. Frighteningly, however, it is currently legal in most states for physicians to perform plastic and cosmetic surgery without board certification.
"Then, there's the issue of patient education and informed consent," explains the doctor. "When you go in for your plastic surgery consultation, make sure your surgeon is giving you the whole story — the risks, the potential benefits and what you can expect afterward." Dr. Fiorillo, who has been board-certified since 1999, is a long-time advocate of thorough plastic surgery consultations, often requiring his patients to come in for at least two consultation sessions prior to surgery.
"So, when it comes to plastic surgery, you have to be your own advocate," concludes Dr. Fiorillo. "Check credentials, ask questions and choose your plastic surgeon wisely. There's nothing more important than your health and safety."
Click Here to watch Dr. Fiorillo's appearance on "The View."
About Dr. Fiorillo
Dr. Michael Fiorillo, a board-certified plastic surgeon in New Jersey and New York City, is highly respected and well-known. He frequently appears in the national media as an expert opinion in this popular field, including appearing as a breast specialist on "The Real Housewives of New Jersey."
Board-certified in Plastic and Reconstructive Surgery, Dr. Fiorillo graduated with his medical degree at the top of his class at Chicago Medical School and completed residency training in general surgery at Staten Island University Hospital. He also completed a fellowship in plastic surgery at the University of Medicine and Dentistry of New Jersey.
In 2004, Dr. Fiorillo opened an outpatient surgical facility where he performs most of his plastic surgery procedures, providing comfort and convenience for his patients. Dr. Fiorillo has offices in New York and New Jersey and can be reached at (866) 537-0954 or http://www.drfiorillo.com/.