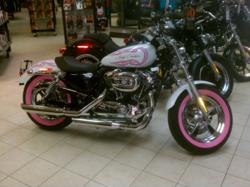 Columbus, OH (PRWEB) April 19, 2012
A.D. Farrow Co. Harley-Davidson and the Bluestone have teamed up once again. This time, the two have coordinated a series of Third Thursday Bike Rallies in Columbus, Ohio. The Rallies will take place every third Thursday, from April through August, at the Bluestone. The former church is conveniently located in downtown Columbus on East Broad, just down the street from America's Oldest Harley Dealer on West Broad.
The first Rally will take place on April 19th, 2012 to kick –off the summer long series. The Bluestone is hosting the music talents of Cliff Cody and the infamous country band, McGuffy Lane to jump-start the riding season for central Ohio riders. With no cover charge, free parking, and the entertainment line up, the first Rally is setup for success.
Staying true to their commitment to community involvement and charity, A.D Farrow Co. and the Bluestone have designated that 100% of the proceeds will benefit the Stefanie Spielman Fund for Breast Cancer Research. That light pink color that many wear as a sign they are fighting cancer, are a survivor, or a supporter of a cancer victim will most definitely be represented at the Rallies. A.D. Farrow Co. and the Bluestone have decided on a brand new pink and white Sportster 1200 complete with pink wall tires, Rush exhaust and the Bling collection to be raffled off on the final Rally night on August 16th. The bike's appearance will undoubtedly resonate with those in support of breast cancer awareness as well as Harley-Davidson enthusiasts.
Successful events such as The Easyriders Official After Party hosted by A.D. Farrow Company and the Bluestone and the 100th Anniversary Save the Date Party have preceded these rallies. As A.D. Farrow Co. Harley-Davidson launches its "Summer of the Century" this year to celebrate it's 100th birthday the Bluestone appears to be playing a significant role in the festivities.