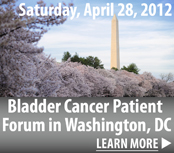 Fifth Most Frequently Diagnosed Cancer in U.S. Affects Approximately 70,000
Americans Each Year
Washington, DC (PRWEB) April 19, 2012
"Many people don't realize how prevalent bladder cancer is, and are unaware of the signs and symptoms of the disease. As a result, patients that suffer from bladder cancer often feel isolated," said Diane Zipursky Quale, president and co-founder of BCAN. "Our goal of hosting the forum is to give people affected by bladder cancer a better understanding of this life-changing disease and the resources available to help them."
A panel of bladder cancer specialists from the local area will be on hand to provide a complete overview of the disease, treatment, and recent advances. Below is a brief overview of the forum's topics and panel members:

Understanding Bladder Cancer & Treating Non-Muscle Invasive Bladder Cancer
o Dr. Stephen Riggs,, MD, Eastern Virginia Medical School
o Dr. Compton Benjamin, MD, Ph.D., George Washington University Medical Center
o Dr. Trinity Bivalacqua, MD, PhD, Johns Hopkins Medical Institutions

Advances in Bladder Cancer Research
o Dr. Andrea Apolo, MD, National Cancer Institute

Treating Muscle-Invasive Bladder Cancer
o Dr. Inger Rosner, MD, Walter Reed National Military Medical Center

The Role of Chemotherapy in Treating Bladder Cancer
o Dr. Nancy Dawson, MD, Georgetown Lombardi Comprehensive Cancer Center
About Bladder Cancer
Approximately 70,000 new cases of cancer are diagnosed annually in the United States, and more than 14,000 Americans die from the disease each year. Smokers are at high risk of bladder cancer. The chance of getting bladder cancer increases as people age. Men are two to three times more likely than women to be diagnosed with bladder cancer, yet women are more likely to be diagnosed at a later stage. The most frequent symptom of the disease is blood in the urine – a signal that one should see a doctor immediately.
About the Bladder Cancer Advocacy Network
The Bladder Cancer Advocacy Network (BCAN – pronounced beacon) is the first national advocacy organization dedicated to improving public awareness of bladder cancer, advancing bladder cancer research and providing information and support to people affected by bladder cancer. Founded in May 2005, BCAN is a cooperative effort among bladder cancer survivors, their loved ones and the medical community.
To attend this patient forum, or for more information about bladder cancer, please register here or call 888-901-BCAN. Preregistration is required because space is limited and lunch is provided. Registration is $15 per person.
###
More information about bladder cancer is available at http://www.bcan.org/about/press/facts/
B-roll and PSAs are available for download at http://www.bcan.org/about/press/
Interviews with local bladder cancer survivors, BCAN's co-founder Diane Zipursky Quale, and/or bladder cancer experts are available on request.