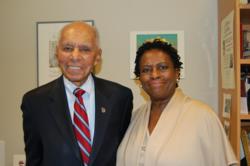 This year's honorees exemplify the lasting impact of extraordinary individuals who have devoted their lives to promoting racial equity by addressing institutional and structural racism.
(PRWEB) April 24, 2012
"This year's Abraham Krasnoff Courage and Commitment Award honorees exemplify the lasting impact of extraordinary individuals who have devoted their lives to promoting racial equity by addressing institutional and structural racism," says Elaine Gross, President of ERASE Racism, adding, "Our Corporate Leadership Award honoree proves that corporations can play a critical role in increasing racial equity. I couldn't think of three honorees more worthy of launching ERASE Racism's second decade of eliminating racial disparities on Long Island."
Among its many achievements over the past 10 years, ERASE Racism's most recent accomplishments include the release of its documentary A TALE OF TWO SCHOOLS: Race and Education on Long Island and a new housing survey report that dispels myths about the causes of segregation, Housing and Neighborhood Preferences of African Americans on Long Island.
ERASE Racism's 2012 Benefit Celebration will take place Tuesday, June 12th at the Garden City Hotel, where more than 300 supporters will gather to celebrate the past and build for the future. The Abraham Krasnoff Courage and Commitment Award will be presented to Dr. Roscoe C. Brown, pioneer for racial equity as a Tuskegee Airman and as a renowned educator, and to Ms. Joan R. Saltzman, inspiring leader and community activist for equal access and expanded services. ERASE Racism will also present its Corporate Leadership Award to North Shore-LIJ Health System, a visionary leader for equity and excellence in healthcare. The award will be accepted by Jennifer Mieres, M.D., Senior Vice President, Office of Community and Public Health.
The Tuskegee Airmen are often credited with being pioneers of the civil rights movement. Their heroism led to the integration of the armed forces and opened many doors to black Americans. Dr. Roscoe Brown joined the elite African-American pilots, often referred to as the "Red Tail Angels", in 1943. He received the Distinguished Flying Cross with eight Oak Clusters and, more recently, the Congressional Gold Medal. Dr. Brown is one of the airmen whose experiences are featured in the current movie, Red Tails. ERASE Racism will honor Dr. Brown for his historic role as a Tuskegee Airmen and for his life-time commitment to racial justice. He has been an eminent professor of education and academic leader; a widely-respected member of dozens of New York City, state and national boards, including Boys and Girls Clubs of America and the American Council on Education; the author of numerous articles and guides on education and other topics; originator, host and guest on many television programs, such as "African-American Legends" on CUNY-TV; and the recipient of various honors for his significant scholarly and community contributions, including the Congressional Award for Service to the African-American Community, BET Honors and Who's Who in America.
Ms. Joan Saltzman is the embodiment of inspiring leadership, civic responsibility and generous philanthropy. Her work is best known on Long Island, but her influence has extended to the state level. As an advocate and activist, she has shown rare courage and commitment in working to protect Long Island's and New York State's most vulnerable residents, combating discriminatory policies and practices, and strengthening and expanding health and human services. Ms. Saltzman has served as a member of key state and local policy and planning bodies. She was a cofounder of the Long Island Community Foundation, North Shore Child & Family Guidance and the Long Island Fund for Women & Girls (recently renamed the Long Island Fund for Women), and she was the founding president of Community Advocates, a non-profit organization that has been a major catalyst for social and racial justice, affordable housing and housing for homeless individuals and families. ERASE Racism will honor Ms. Saltzman for her life-time commitment to social justice and to helping people in need.
For information on ERASE Racism's work, visit http://www.eraseracismny.org. For information about the Benefit, please visit the website, call Sherley Cherenfant at 516-921-4863 x17, or email sherley(at)eraseracismny(dot)org.