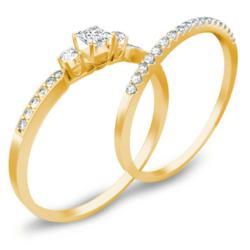 Yellow Diamond Engagement Rings are now available at very cheap and affordable prices on JewelOcean.com
Cockeysville, MD (PRWEB) April 21, 2012
Customers would be surprised to know that yellow diamonds are one of the rarest types of diamonds mined. Yellow diamonds represent only 0.1% of the total diamond mined around the world. Until recently, yellow diamonds were seen as inferior quality diamonds and were not used for engagement rings and jewelry. Their usage was mainly restricted for industrial purposes. In modern times however, these incredibly rare gems have been brought into the industry spotlight. The yellow diamonds with their unique color shades and shine have caught the eyes of rich and famous. Many of the richest celebrities are now purchasing yellow diamond engagement rings. Based on the growing demand, JewelOcean is now starting an entire line of yellow diamond engagement rings which is made with natural yellow diamonds and is available at very cheap prices.
Yellow diamonds get their rich fancy color from nitrogen. Nitrogen atoms are present when diamonds are created deep within the earth's crust and are infused into the diamond. Luckily, when the nitrogen atoms are infused into a yellow diamond the structure of the diamond is not significantly changed and will be just as hard and refractive as a standard white diamond. Only fractions of mined diamonds undergo this process to attain their yellow color. Therefore, many jewelry companies are now using artificial methods to enhance the color of normal diamonds to attain the rich yellow color. JewelOcean.com prides itself on only using real natural yellow diamonds in their yellow diamond engagement rings and other yellow diamond jewelry, leaving the customer at ease when browsing their selection of yellow diamond rings jewelry.
JewelOcean.com currently has a massive collection of diamond engagement rings and the addition of yellow diamonds will surely increase this collection. Based on different shades of yellow, customer would find different types of diamond rings in the collection. Some diamond rings are termed as yellow diamond rings, while other rings are termed as Canary diamond engagement rings because of different yellow shade of the diamond. Customers would find yellow diamond rings in all popular diamond shapes such as princess cut yellow diamonds and round cut yellow diamonds. As always JewelOcean is introducing this yellow diamond ring collection at inexpensive and affordable price.
A leading online discount jewelry retailer, JewelOcean specializes in providing cheap engagement rings, wedding ring sets and bridal sets. With thousands of positive customer reviews and ratings, JewelOcean.com is leading the way in providing excellent customer service and affordable diamond jewelry. For more information on cheap diamond rings and yellow diamond rings collection please visit JewelOcean.com