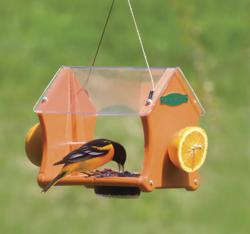 The two things I like most about the recycled products are that they're easy to keep clean and the colors are beautiful!--Mindy G. Duncraft Customer Service
Concord, NH (PRWEB) April 24, 2012
In less than a year, Duncraft has produced more new bird feeding designs than they did in the last ten years—thanks to an investment in a CNC Router.
After almost sixty years of making bird feeders and houses of acrylic and wood, Duncraft made the move to producing Eco-friendly, recycled plastic products. Recycled plastic "wood" is made of type 2 HDPE recyclables such as milk jugs, oil and detergent containers, plastic toys and plastic bags. It contains no wood fillers. After processing, the resulting "lumber" product contains over 90% post consumer waste, turning potential landfill material into a long lasting, durable product that doesn't splinter or crack, is completely resistant to insects and doesn't fade.
Many of Duncraft's wooden bird feeders and bird houses were easily converted to the new material. Duncraft's wood products had straight lines because each piece was cut by hand on nothing more than a rip saw, table saw and drills at their Concord, NH manufacturing facility. Recycled plastic can be cut exactly the same way. And after years of creating natural wood products, recycled plastic now enables Duncraft to make a profound change in the look of their offerings—the addition of vibrant color.
In addition to beautiful color, Mike Dunn, owner and product designer, wanted to create bird feeders and bird houses using new patterns and shapes not possible with the old methods. A CNC Router was brought in to facilitate the new designs. The router enables designs to be created on the computer and then fed directly into the machine which then precision-cuts curves, angles and cutouts. Duncraft's new products are unlike any on the market. Duncraft continues to produce many exciting, colorful new products and in the process is accomplishing another task very important to Mike—creating unique bird feeders and houses proudly made in the USA.
Founded in 1952 and located in Concord, New Hampshire, Duncraft's objective is to bring the joy of backyard birding to wild bird lovers all across the country. Mike Dunn, owner and CEO is constantly inventing and searching for innovative ideas in bird feeding—giving bird lovers years of bird feeding enjoyment, success and satisfaction.
Duncraft
102 Fisherville Road
Concord, NH 03303
603-224-0200