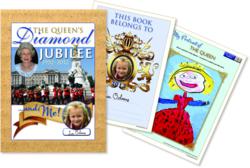 "A brilliant cross-curricular resource for the classroom, full of colourful, inspiring material and wonderful ideas to get creative." Year 3 Teacher
London, England (PRWEB UK) 24 April 2012
A Cotswold-based publishing company, Inkwell Resources http://www.inkwellresources.co.uk/jubilee.php have launched "The Queen's Diamond Jubilee…and Me!" It's a Teachers' Resource with a unique feature that's great fun to use in the classroom: pupils put their own photo on a Scrapbook cover and, using the Resource's sheets, fill their Scrapbooks with their own drawings, writing and images.
Their personalised Scrapbooks will become valuable family keepsakes of this year's important Royal historic event – and, in years to come, these children will be able to show the impressive results to their own kids!
Inkwell Editorial Director Sarah Constable says:
" This Resource brings traditional scrapbook-making into the 21st century by using today's technology. Sheets are supplied as pdfs to be printed out by schools as they need them; and during the Jubilee celebrations, children and families can personalise their Scrapbooks by taking photos of street parties and other events on their phone cameras."
Teachers will use this product to encourage creativity in their pupils but will also use it as a classroom resource for its fascinating facts about the Queen and the Royal Family.
For example, did you know that…
1. Prince Charles was at his mother's coronation as a boy of only 4. Princess Anne was too young to attend.
2. The cellars of the Houses of Parliament are searched by the Queen's Body Guard before every State Opening of Parliament. This tradition dates back to the Gunpowder Plot of 1605, when Guy Fawkes tried to blow up Parliament.
Inkwell's Jubilee Resource provides a wealth of educational material for Schools' Topics and Special Projects. It also includes a timeline of the Queen's reign year by year; photos and information about how things have changed in 60 years (and they have changed a good deal as the images reveal!) – plus activity sheets and quizzes to test pupils' new knowledge.
Teachers have said:
"It's useful for teachers as an information resource and by children as interactive texts for cross-curricular learning. The pictures are really high quality and the format is easy to read."
Deputy Head, Primary School
"An excellent resource which we will use in Year 7. It has abundant stimuli for all aspects of literacy, especially speaking and listening."
Headteacher, Secondary School
Inkwell http://www.inkwellresources.co.uk is a publishing company specialising in topical Teachers' Resources. It is owned and run by Editorial Director Sarah Constable and Art Director Joyce Mason, who are both experienced in creating highly illustrated publications. Inkwell Media is based in Hackney, London and the Cotswolds.
Availability: "The Queen's Diamond Jubilee… and Me!" is available as a CD for schools. It contains 77 (A4) sheets that can be printed out in colour or black and white. Price: £49.95 for a whole-school licence. Samples can be seen on Inkwell's website and CDs can be ordered direct from it by downloading an order form.
Also available: The Olympics and Me! and "All about …Britishness".