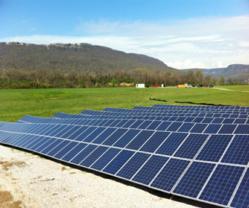 "We are truly excited about the partnership with Lawson Electric and the development of the solar array at Baylor. The partnership with Lawson provides our students with a hands-on experience with a powerful emerging technology..."
Chattanooga, Tennessee (PRWEB) April 25, 2012
Lawson Electric Company completed the interconnection of their new 197.34kW grid-connected photovoltaic solar system to the Electric Power Board's (EPB) grid earlier this week. The ground mounted solar system sits on idle acreage adjacent to Baylor School in Chattanooga, Tennessee. It was installed, and is owned and operated by Lawson Electric Company. The system will supply clean, renewable energy to Baylor School, local businesses and homes surrounding the campus. The system will generate roughly 260,680 kilowatt hours each year, enough to supply the needs of 50 average homes. Throughout the twenty-five year warranted lifetime of the system, the solar array will reduce greenhouse gas emissions by 4,500 metric tons of CO². The system was made possible as part of the Tennessee Valley Authority (TVA) Generation Partners Program. The system was also subsidized through the Federal Tax Credit, an accelerated Bonus Depreciation Schedule and purchased tax-free as a participant in the Tennessee State Sales Tax Credit for Clean and Renewable Energy.
The array sits on a four-acre plot of land that is part of Baylor's 690 acre school campus. It is comprised of 858 solar modules, two-95kW inverters and sits atop a Fas Rack Ground Mount PV Support System. The entire system connects directly into the EPB electrical grid. TVA and EPB have installed a special meter that will calculate the kilowatt hours produced by the system, and then credit the monthly utility bill for the clean energy production. Lawson CEO, Ryan Crimmins, stated, "Lawson was happy to work with Baylor to provide a working solar array on their campus. The array allows Lawson to have an onsite and offsite solar system both at their corporate offices and now at Baylor School. The system also enhances the students' educational experiences, giving them a hands-on lesson with renewable energy. Baylor also sent out three Advanced Placement Physics students to assist with the design aspects of the installation."
Throughout its history, Baylor has been a leader in academics and innovation in education. Founded in 1893 as a small, college preparatory school in downtown Chattanooga, Baylor now has 1,050 students in grades 6-12, including boarding students from around the country and the world. With an emphasis placed on delivering quality education to bright students, the school has always strived for innovative educational practices and leading-edge methods of refining young minds. Through the solar array's installation, Baylor has been able to coordinate lesson plans around the system and include additional educational experiences into their curriculum. Baylor's Headmaster, Scott Wilson, added that, "We are truly excited about the partnership with Lawson Electric and the development of the solar array at Baylor. The partnership with Lawson provides our students with a hands-on experience with a powerful emerging technology; we have taken a big step in reducing energy expenses in the future; and it is just the right thing to do. We have been considering solar solutions for several years and that's where the partnership with Lawson made all the difference. It's a win-win scenario."
About Lawson Electric Company
Since its establishment in 1925, Lawson Electric Company has grown to become one of Tennessee's largest full-service electrical contracting companies with more than 80 years of successful service. Lawson Electric manifests its commitment to quality through its more than 375 employees: construction personnel, field electricians, professional engineers, project managers, designers, industrial automation professionals, management and clerical staff. As the state of Tennessee and the Tennessee Valley Authority make progress toward expanding the state's solar electricity generation, Lawson Electric has tailored its services to give customers the ability to explore renewable energy options through solar installation services. Lawson Electric has been one of Tennessee's most trusted companies for all electrical contracting and repairs for nearly eighty-five years. The company is devoted to building a more sustainable and reliable energy future for Tennessee and the Mid-South region. Through the company's solar efforts, Lawson Electric can help your business increase efficiency, lower monthly utility bills and reduce dependence on fossil fuels. For more information and your free Preliminary Clean Power Plan, go to http://www.TennesseeSolarNow.com today.
About Baylor College Preparatory School
Baylor School, founded in 1893, is an independent, coeducational boarding and day school located in Chattanooga, Tennessee enrolling 1,050 students in grades six through twelve. Baylor's mission is to foster in its students both the ability and the desire to make a positive difference in the world. Baylor fulfills its mission by providing a rich academic program that opens the minds of students, preparing them for college and for an ever-changing world, a school rooted in tradition yet receptive to change, staffed by talented adults who are devoted to teaching and who model for students a lifelong love of learning, a wide variety of co-curricular experiences that require active participation and personal commitment, extending learning beyond the lessons of the traditional classroom, a diverse academy having at its heart a vibrant resident community of faculty and students from around the world, and a balance of emphases on activities of the mind, body, and spirit, encouraging students to grow into happy, caring, and honorable adults, ready and unafraid to be leaders for the public good.