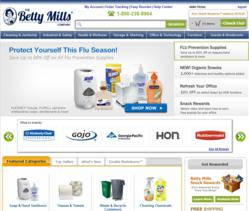 I look forward to helping Betty Mills succeed in building a great American brand
San Mateo, CA (PRWEB) April 20, 2012
The Betty Mills Company ® an Internet TOP 500 Retailer and one of the nation's leading online B2B shopping destinations today announced the appointment of Debbie Pinkston to its board of directors.
Betty Mills CEO, Victor Hanna said, "Debbie brings to Betty Mills a very rich skill set provided her experience in senior level sales and marketing roles at companies such as Netflix and Onsale.com, as a board member of the Internet Advertising Bureau and most recently as a Vice President of Sales at Ironspeed. The entire board at Betty Mills is excited to have Debbie as part of our team."
"Betty Mills is an exciting and innovative online retailer that understands how to deliver both the value and selection required to satisfy their core markets. I'm happy to be a part of this dynamic retailer, and I look forward to helping Betty Mills succeed in building a great American brand," said Debbie Pinkston.
More information about Debbie Pinkston can be found at the following profile on Linkedin.
About Betty Mills
The Betty Mills Company® is a TOP 500 e-commerce company and one of America's leading B2B suppliers of cleaning, facility, break room and office snacks. Offering 130,000 brand-leading products shipped right to your door from over 55 U.S. warehouse locations.
With Betty Mills everyday low prices, Snack Rewards™ Customer Loyalty Program and Double Markdowns® Specials, Betty Mills offers a comfortable and easy online shopping experience for everyone who likes to buy smart and save big! Betty Mills Company's headquarter is located in San Mateo, CA. For more information, please visit BettyMills.com.
# # #