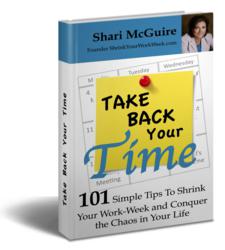 Maple Grove, MN (PRWEB) April 23, 2012
Shari McGuire of ShrinkYourWorkWeek.com, a time management, productivity and profitability expert announced the release of her new book, Take Back Your Time: 101 Simple Tips To Shrink Your Work-Week and Conquer the Chaos in Your Life. The book provides business owners and corporate professionals with small, easy steps to accomplish more in less time.
"Let's face it. Old ways of managing time and productivity aren't effective for today's lifestyles," says McGuire. "People are out there right now running around like hamsters on a wheel. They are overwhelmed and underpaid and have precious little time for loved ones or themselves. I am on a mission to change the way people view their time so that they experience much less stress and enjoy life more."
McGuire's experience ranges from finding thousands of hours and hidden profits for small business owners to saving millions of dollars for Fortune 500 companies.
As a complementary introduction to the book, McGuire is offering a free chapter at http://takebackyourtimebook.com. For more information about the book or to schedule an interview, please contact Shari McGuire's office at 612-836-8505. The book is being distributed at Amazon.com in paperback and Kindle for $9.95 and $7.50 respectively. Images of the book, author photos and book endorsements can be found at http://takebackyourtimebook.com.