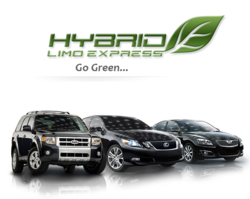 "We can do good for our business while doing something good for the environment, there is no trade-off here."
New York, NY (PRWEB) April 20, 2012
Edward Slinin has been leading CTG down a path which combines cost cutting with environmentally friendly strategies. As people everywhere grow more and more worried about the environment and gas prices, new strategies which address both profitability and public concern are becoming more important.
Whether beginning a small computer start-up company in a garage or putting together a publishing press, there are always unseen factors to contend with.
Which is why CTG is proud to announce some new "Greener" changes. Corporate Transportation Group (CTG) was started by Edward Slinin in 1983 with just one car. Today, Edward Slinin's company owns more than 1300 cars that provide reliable and timely transportation to thousands of clients across New York City and surrounding areas.
As might be expected, having that many cars in a company involves taking heed of certain environmental concerns. That is why Mr. Slinin has made sure that Corporate Transportation Group has remained on the front lines of introducing "green" vehicles into his business. Of course, CTG is not alone in this.
As environmental awareness becomes more prevalent, more and more transportation business owners are utilizing hybrid cars. Not only is does this put a positive spin on businesses as a whole, but it also brings in more business.
First of all, by using hybrid cars, Mr. Slinin's CTG and other similar businesses are communicating an important message to the public: Protecting the environment is everyone's responsibility. In Mr. Slinin's case, his focus on operating cars with low emissions to reduce pollution in an area as congested as New York City is vital. What's more, he is also showing that his company is up to speed with modern transportation methods. For transportation companies, this can be an essential asset to attracting new high profile clients that are equally conscience of the environment.
Hybrid cars are a smart move economically, too. While the cars themselves might be a bit more expensive than traditional vehicles, the money CTG and other transportation companies are saving on gas can be placed elsewhere within the company: more green vehicles, adjustments to employee pay, or routine maintenance on his huge fleet of cars.
What is done with this green advantage is really up the individual companies. In the case of CTG, helping the city save millions by driving disabled individuals to doctors appointments and other essential errands is the end result. It is more than just helping the environment, but going that one extra step further to help the community.
Using green cars is just another way transportation companies can set a new standard of excellence--not just for current clients and needs, but well into the future.