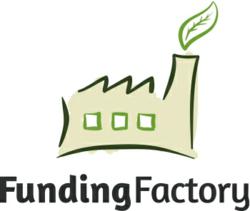 "We want to plant trees on behalf of our participants as a 'thank you' for making the effort to recycle cartridges and electronics," said Sean Michaels, co-founder of FundingFactory.
Erie, PA (PRWEB) April 20, 2012
While FundingFactory reports the highest level of participation in e-waste recycling in program history, only a fraction of printer cartridges, mobile devices and other small electronics are recycled in the United States, leaving millions of pounds of waste for landfills and potential funding for schools and nonprofits unrealized. To increase awareness, and participation in e-waste recycling, FundingFactory®, the nation's largest fundraising-by-recycling program for schools and nonprofits, pledges an Act of Green in honor of Earth Day 2012 by planting one tree for every 100 recyclable items received during the month of April.
To support A Billion Acts of Green®, a campaign initiated by the Earth Day Network encouraging people to undertake acts of environmental service, FundingFactory pledges to plant one tree – and one Act of Green - for every 100 used printer cartridges, cell phones, and small electronics received April 1-30. Currently on track to receive 300,000 items, FundingFactory will be planting around 3,000 trees with CarbonFund.org. In addition, all items received during the month of April will be considered an Act of Green by participants.
"We are pleased to support the Earth Day Network's goal of reaching a billion acts of green," said Sean Michaels, co-founder of the FundingFactory program and co-president of Environmental Reclamation Services. "We want to plant trees on behalf of our participants as a 'thank you' for making the effort to recycle cartridges and electronics. Now more than ever, it's essential that we all do our part for the environment, as the problem continues to grow with the rapid proliferation of technology devices. Through this pledge we hope to take a noteworthy step towards a greener future."
Recently, FundingFactory received the Responsible Recycling Practices for Electronics Recyclers (R2) certification. The R2 certified recycler standard is supported by The Institute of Scrap Recycling Industries, The Information Technology Industry Council, public interest groups, the United States EPA, and U.S. state and local governments. R2 certification is determined by a thorough set of requirements for companies that recycle computers, electronics and universal wastes. The standard includes requirements for environmental and legal compliance, worker health and safety, and security practices.
In 2011, FundingFactory participants collectively generated more than $1.3 million in funding, and diverted over 3.2 millions pounds of e-waste from being landfilled, equivalent to the weight of approximately 400 adult-sized elephants, the greatest volume collected in the program's 14-year history.
According to Global Futures Foundation, trace amounts from e-waste accounts for 70 percent of the overall toxic waste currently found in landfills. In addition to valuable metals like aluminum, electronics often contain hazardous materials such as mercury. When placed in a landfill, even in small doses, these materials can contaminate soil and drinking water.
More information about the e-waste problem and recycling efforts is available the "Turn E-Waste Into Something Great" infographic. For more information on the FundingFactory Earth Day pledge, go to the FundingFactory Blog.
To take part in FundingFactory programs, schools and other nonprofit organizations can register for free at http://www.fundingfactory.com/register. For-profit businesses also can participate at no cost by shipping recyclable items on a school or organization's behalf.
About FundingFactory
Since its inception in 1998, FundingFactory has provided more than $26 million in funding to schools and nonprofit organizations across the United States, and saved 21 million pounds of waste from landfills. FundingFactory is a free recycling fundraiser for schools, nonprofits, and charities. Participating organizations can earn points redeemable for cash or products by recycling empty printer cartridges, cell phones and other small electronics from their communities and supporters. FundingFactory is a program of Environmental Reclamation Services, LLC, a Clover Technologies Group company. Headquartered in Erie, Pa., ERS is an R2 "Responsible Recycling", ISO Certified, Zero Landfill Initiative company with more than 99 percent of its incoming material reused or recycled in 2011.
Media Contacts

Erika Dauber, FundingFactory, 814-464-1826, edauber(at)fundingfactory(dot)com
Kristen Plemon, C. Blohm & Associates, 608-216-7300 x. 18, kristen(at)cblohm(dot)com