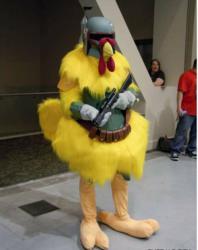 Where Your World, Is Our Game!
Sacramento, CA (PRWEB) April 20, 2012
Cosplay? We Play!
Most gamers know about Cosplay, but do you know the history?
http://www.lokisplanet.com is a social network for gamers, but some gamers go beyond the video game, beyond the manga, and even beyond fan art; into the wild and colorful world of Cosplay. But what is cosplay? Well, it's a way to show true, hardcore, fandom.
In 1984, while visiting the Los Angeles Science Fiction World Convention, Nobuyuki Takahashi, of Studio Hard, was amazed by the fans in character costumes and coined the term Cosplay. By joining two words, costume and Play, Takahashi labeled a growing scene that was inspired by manga, anime, comic books, video games, and film.
Cosplay has its roots in obscure fandom but has managed to gain international influence. From teens gathering in Toyo's Harajuku and Akihabara districts to form their own cospaly groups in dedicated cosplay cafes to advertising and full magazines, such as Cosmode and Dengeki. Cosplayers even have their own events spreading worldwide, from E3, to the rumored largest event being the semi-annual, Doujinsh Market in Japan.
Since the labeling of this fandom in 1984, artists have begun to design their characters around how easily they are to integrate into the growing Cosplay scene by creating wearable fashions. Often fans will take months working on their costumes; spending hundreds of dollars on fabric and accessories, making sure they get every detail of a character just right, and we, here at http://www.lokisplanet.com, love you for it!
We give a tip of our horns to you, cosplayer, for you dedication and love of the scene! -Cara Key