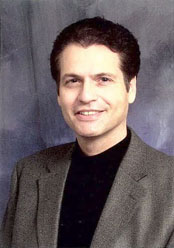 Wilmington, Mass. (PRWEB) April 23, 2012
The Brewer Award is presented to individuals who have dedicated their career to advancing electrocoat technology. Three awards are generally given in the areas of Technology, Application and Promotion. Dr. Rizzone received the award for Market Promotion of Electrocoat Technology at the Industry Awards Banquet held at Electrocoat 2012 on April 11 in Orlando, FL.
"It is indeed an honor to be selected by the Electrocoat Association for this most distinguished award," said Dr. Rizzone. "The market promotion of innovative electrocoat technologies has evolved significantly over the years and I am proud to have contributed to that evolution."
Mark has over 25 years of membrane filtration experience and has served the electrocoat industry for as many years. He has been Vice President, President and now Past President of the Electrocoat Association and has participated on the Electrocoat Conference Steering Committee. He is a major contributor to the electrocoat industry having authored several papers describing new membrane filtration products and applications including, "Recent Advances in Spiral Wound Ultrafiltration Technology for E-Coat Paint" and "Recovery of Paint Solids by DI Dip Rinse Ultrafiltration."
Koch Membrane Systems, a world-class developer and manufacturer of innovative membranes and membrane filtration systems, has more than 40 years of experience with membrane applications for electrocoat paint, and can provide standard or custom racks and systems that maximize paint recovery and minimize water and wastewater processing costs.
About Koch Membrane Systems (KMS)
For more than four decades, Koch Membrane Systems, Inc. has led the way in developing innovative membrane technologies that serve a diverse range of industries and applications around the globe. KMS provides solutions to markets including industrial and municipal water and wastewater, food and life sciences and industrial processes, helping thousands of industries reduce their water footprint, increase productivity, and reduce costs. With an installed base approaching 20,000 systems throughout the world, KMS is setting the standard as a comprehensive membrane solutions provider.
©2012 Koch Membrane Systems, Inc.
The STYLIZED K is a registered trademark of Koch Industries, Inc. in the U.S. and other countries.The FLOW LINES DESIGN is a registered trademark of Koch Membrane Systems, Inc. in the U.S.Koch Membrane Systems, Inc. is a Koch Chemical Technology Group, LLC Company.