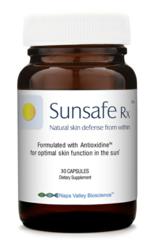 Santa Monica, CA (PRWEB) April 20, 2012
Going out in the sun this summer? Of course! Yet the sun damages skin, and it's not always convenient to use sunscreen lotions. Enter Sunsafe Rx from Napa Valley Bioscience. Sunsafe Rx is a new, healthy nutritional supplement, taken orally once per day, that provides the skin with continuous full-body protection from the sun.
Backed by years of extensive clinical research, Sunsafe Rx is made with natural antioxidants proven to defend against both UVA and UVB rays. Plus, the healthy ingredients in Sunsafe Rx are good for the whole body and there are no artificial chemicals or additives of any kind! Keep that youthful-looking complexion by taking just one anti-aging, wrinkle-preventing capsule daily for summer skin safety. 30/60/120 capsule bottles: $29/$49/$89. Available at SunsafeRx.com.
About Napa Valley Bioscience: Napa Valley Bioscience is an American, research-driven, novel nutraceutical company headquartered in Santa Monica, California.
Sunsafe Rx is a registered trademark of Napa Valley Bioscience.
For media inquiries or to request a sample of the product, please contact:
Kelley Coughlan
Melrose PR
kelley(at)melrosepr(dot)com
310.570.9970