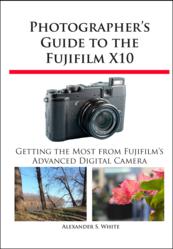 (PRWEB) April 21, 2012
This book by Alexander S. White, Photographer's Guide to the Fujifilm X10, provides clearly written guidance to beginning and intermediate photographers who want expert advice on using the controls, menus, and other features of the Fujifilm X10, one of the more advanced compact digital camera models currently on the market.
The guide to the X10 camera, like the earlier books in the series, does not assume any detailed knowledge of digital photography by the reader. In 338 pages, it covers all aspects of the camera's operation in clear but detailed language, explaining technical concepts in plain English and clarifying complex topics such as white balance, ISO, aperture priority, shutter priority, autofocus, and high dynamic range (HDR) photography. The book's nine chapters contain numerous full-color illustrations, including photographs of the camera, screen shots showing the menu system and other information that appears on the camera's LCD display, and many photographs taken by the author with the Fujifilm X10 camera.
In addition to providing guidance about all features and options of the camera, including a full discussion of the camera's High Definition and slow-motion video capabilities, the book goes beyond the basics and presents introductions to several more advanced topics, including infrared photography, 3D photography, street photography, astrophotography, and macro photography, each topic accompanied by sample photographs taken with the X10. In three appendices, the book provides information about accessories for the camera, gives a set of "quick tips" with insights into getting the best results with the X10, and includes resources for further information.
The book's ISBN is 978-1-937986-03-2. It is available now for $29.95 in trade paperback format from Amazon.com. A PDF version of the book can be purchased for $9.95 through the publisher's web site, whiteknightpress.com. Versions for the Kindle, iPad, and Nook are in preparation and will be released by early May 2012. Previous books in this series, all still available, are the author's guides to the Leica D-Lux 4 and D-Lux 5, the Panasonic Lumix DMC-LX3 and LX5, the Canon PowerShot S95 and S100, the Nikon Coolpix P500, and the Fujifilm FinePix X100.