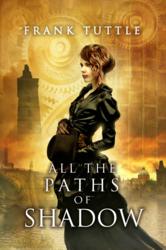 The king's orders were clear enough. "Move the
tower's shadow," he bellowed. "I refuse to deliver
my commencement speech from the dark."
Newport, Rhode Island (PRWEB) April 22, 2012
The Darrell Award is presented by the MidSouthCon in Memphis, Tennessee. Established in honor of Dr. Darrell C. Richardson, the Darrell Awards honor Southern fantasy and fiction authors each year. Frank Tuttle's YA novel ALL THE PATHS OF SHADOW was an early favorite for the Darrell Award.
ALL THE PATHS OF SHADOW is the first book in a four-book series planned by Tuttle and published by Cool Well Press. Featuring a young female heroine and liberal dashes of humor, the novel has received acclaim from reviewers and readers alike.
For more information on the history and significance of the Darrell Awards, visit http://darrellawards.wordpress.com/2012/03/24/2012-darrell-awards-honored-works/.
ALL THE PATHS OF SHADOW is available at Amazon, Barnes & Noble, and Cool Well Press. For more information on the author and direct links to booksellers, visit Frank Tuttle's webpage at http://www.http://www.franktuttle.com.
About Cool Well Press
Cool Well Press offers its readers a variety of genres including fantasy, mystery, science fiction, suspense, historicals, Young Adult, and non-fiction. Cool Well Press strives to bring you the best and brightest authors and stories that will touch your heart, open your mind, and keep you thinking long past The End. For more information, please visit Cool Well Press at http://www.coolwellpress.com. For the latest, follow @coolwellpress on Twitter.