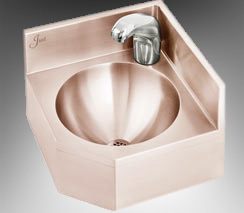 The antimicrobial copper used in these products is the world's most effective antimicrobial touch surface material killing greater than 99.9% of various bacteria within two hours of exposure including MRSA, VRE, Staphylococcus aureus, and more.
Franklin Park, IL (PRWEB) April 20, 2012
In a study of infectious diseases, the CDC reports that Staphylococcus aureus is a leading cause of hospital-acquired infections (HAIs). "Hospital-acquired infections with Staphylococcus aureus, especially methicillin-resistant S. aureus (MRSA) infections, are a major cause of illness and death and impose serious economic costs on patients and hospitals." The CDC also concludes "MRSA is now endemic, and even epidemic, in many US hospitals, long-term care facilities, and communities. Contrary to the generally accepted view, community-associated MRSA strains may be spreading into the healthcare system rather than the other way around." (1)
Survey results reveal that 34 percent of Americans have, or know someone who has, acquired an infection after being exposed to infectious pathogens during a hospital stay. (2) As a result, in the U.S., nearly 100,000 associated deaths are occurring in hospitals.
New Tool to help reduce MRSA and other bacteria* that cause HAIs: The bulk of infections are contracted by touch; therefore reducing both infectious viruses and bacteria on surfaces has long been a critical element in HAI control and reduction. According to researchers, the results from a comprehensive clinical trial demonstrate the use of antimicrobial copper surfaces in intensive care unit rooms reduced the amount of bacteria that threaten patient safety.
The study (funded by the U.S. Department of Defense) took place at Memorial Sloan Kettering Cancer Center in New York, the Medical University of South Carolina, and the Ralph H. Johnson VA Medical Center, both in Charleston. As part of the study, common objects were replaced with antimicrobial copper versions.
Just Manufacturing, a leading manufacturer of health care plumbing fixtures, is now using antimicrobial copper to produce healthcare plumbing fixtures for hand wash and scrub up areas throughout the hospital including surgical scrub, patient lavatory, nurses stations, ER and ICU areas. The company is utilizing the unique new technology of CuVerro® Antimicrobial Copper Nickel, which creates surfaces that are safe to use and never wear or wash away. The antimicrobial copper used in these products is the world's most effective antimicrobial touch surface material killing greater than 99.9% of the following bacteria within two hours of exposure: MRSA, VRE, Staphylococcus aureus, Enterobacter aerogenes, Pseudomonas aeruginosa, and E. coli O157:H7. For a complete listing of approved EPA public health claims for antimicrobial copper, visit http://www.antimicrobialcopper.com.
Just Manufacturing has been a leading manufacturer of hospital fixtures and now provides health care products that help kill bacteria* which cause infection, while advancing safety and compliance. Since 1933, its stainless steel sinks and fixtures have been specified for hospitals and healthcare institutions worldwide. For more information, visit http://www.justmfg.com/antimicrobial-copper-sinks.
The use of an Antimicrobial Copper surface is a supplement to and not a substitute for standard infection control practices; users must continue to follow all current infection control practices, including those practices related to cleaning and disinfection of environmental surfaces. The Antimicrobial Copper surface material has been shown to reduce microbial contamination, but it does not necessarily prevent cross contamination
(1) http://wwwnc.cdc.gov/eid/article/13/12/07-0629_article.htm
(2) http://www.infectioncontroltoday.com/news/2011/07/survey-finds-more-than-1-in-3-americans-affected-by-hais.aspx

Testing demonstrates that when cleaned regularly, antimicrobial copper surfaces are effective against Staphylococcus aureus, Enterobacter aerogenes, Methicillin-Resistant Staphylococcus aureus (MRSA), Escherichia coli O157:H7, and Pseudomonas aeruginosa.
CuVerro® is a registered trademark of GBC Metals, LLC and is used with permission – J-0007-1204.