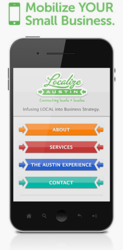 We focus on the core elements of a business' full website and bring them to the forefront of the screen and the fingertips of consumers.
Austin, Texas (PRWEB) April 19, 2012
LocalizeAustin, a small business marketing consultancy, has expanded to offer a new resource for local Austin businesses: mobile-friendly websites. In anticipation of mobile internet usage surpassing desktop internet usage, small businesses have an opportunity to more quickly and efficiently connect and engage with potential and returning customers on the go.
LocalizeAustin has teamed up with Hi5 Publicity to create a small business mobile website service that accommodates the unique needs and budgets of small business. The service is priced on a monthly subscription basis and includes:

four website pages (with optional add-ons);
business logo and brand colors;
social media profile links;
instant contact forms and buttons;
automatic redirect from full site to your mobile website;
viewer option to switch to the full website view; and
monthly traffic reports.
"We are excited to partner with LocalizeAustin because they intimately understand the needs of small businesses here in Austin," said Kevin Barnett, CEO Hi5 Publicity. "We have developed this affordable mobile marketing solution to help Austin small businesses become more accessible to the public and boost their bottom line."
Some mobile site tools automatically resize websites to fit smaller mobile device screens, which may require the viewer to zoom in or scroll to find the information they are looking for. This can result in the customer purchasing from a competitor with easier access to information. The MobilizeAustin small business service creates a separate website designed for quick mobile usage. It focuses on the core elements of the full website (i.e. About, Offerings, Contact Information) and brings them to the forefront of the screen and the fingertips of consumers.
"As consumers, we are using mobile devices more often and making quicker purchase decisions," says Rebecca Otis, Founder of LocalizeAustin. "Through our MobilizeAustin service, we can help small businesses set up a simple, easy-to-use, professional mobile-friendly website so they don't ever have to worry about missing a business opportunity."
LocalizeAustin has developed an easy set-up process with an online form and price-sensitive subscription fee to help small businesses "mobilize" quickly. To learn more, Austin small businesses are invited to visit the LocalizeAustin booth at the BiGAUSTIN BiG Idea Day vendor fair this Friday, April 20 from 10:30am to 1:00pm at the Bob Bullock Texas State History Museum.
For inquiries and to set up a mobile-friendly website, visit http://www.mobilizeaustin.com.