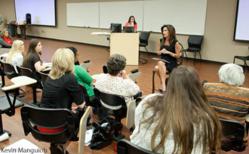 Lynchburg, Va. (PRWEB) April 21, 2012
Liberty University's Young Women for America club is now serving as the flagship chapter of a national organization that applies Biblical principles to public policy issues. On Saturday, April 14, the club held a leadership training session featuring Liberty alumna Penny Nance ('98), CEO and President of Concerned Women for America (CWA).
"Young Women for America is the new project of Concerned Women for America," said senior Amanda Haas, national liaison for Liberty's chapter. "The purpose is to raise up the next generation of CWA members."
Liberty's chapter is currently training students from other schools and helping them start chapters. The training session brought in women from Oral Roberts University, Cedarville University and Ave Maria School of Law.
The session featured various speakers, including Dr. Janice Crouse, senior fellow of the Beverly LaHaye Institute, who discussed in-depth issues such as same-sex marriage, abortion and social justice. Current president of the Liberty chapter of Young Women for America, Shea Anderson, spoke on how to run successful meetings. Nance capped off the meeting by stressing the importance of being bold in standing up for conservative values.
Haas credits Nance for being a huge force not only in the conservative field of politics, but also within Liberty University.
"We've had her at different events. It's a great way to invite more people to our chapter," Haas said. "She's really taken this as her personal chapter, I feel. The biggest thing I can say in two years is she's raising money for this cause. She really believes in this initiative."
The club meets every other week.
"Everything we do is built on prayer. … We meet and talk about certain issues from the national organization; we pray and then have an 'action item,'" Haas said. These "action items" include writing letters to government officials and volunteering at the Liberty Godparent Home.
Women of all majors are invited to join Young Women for America at Liberty.
"Honestly, if you're a Christian and you're a woman, you have a say in what goes on in policy that affects you," Haas said. "We come together, and it's just a great way to keep informed about the country and a great way to meet with like-minded students."
Liberty University, located in Lynchburg, Va., is the world's largest Christian university. More than 12,000 students attend classes on its 6,500-acre residential campus and more than 70,000 study in its thriving online education program.