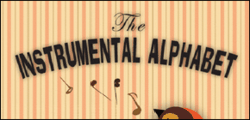 The story seems to tell me what images to use. Initially, I start with pretty much a whim and then let it take me where it's going. I really try not to over-think anything. Keep it simple and fun. - Greg Carr
Denver, CO (PRWEB) April 20, 2012
A new finger-snapping, toe-tapping children's app
The Instrumental Alphabet is a finger-snapping, toe-tapping introduction to the A,B,C's. As they groove to the backbeat of some jazzy tunes, all musical friends from A to Z will take reader on a romping-stomping journey, and make an introduction to some of their heroes along the way. E like Ella, J like Jimmy and John – lets play and find out more about them. The app is optimized for Kindle Fire on Amazon.com and runs on all Android devices. Target audience: 4-10, enjoyed by all ages!
When asked how he approached the theme of alphabet, the illustrator Greg Carr said: "The story seems to tell me what images to use. I'm never at a lack of ideas, no writer's or artist block. Initially, I start with pretty much a whim and then let it take me where it's going. Often times I'm as surprised as anyone else where it takes me. I really try not to over-think anything. Keep it simple and fun."
The rhytmic story is written by published author Vivien Kooper and narrated by international music artist Chris Daniels.
"The Instrumental Alphabet introduces a kid generation to a whole generation of musical artists and styles. To a younger kid it's fun to make the noise and sounds and bang away on it. To a parent, they will like it because it looks cool and they won't feel as though they are getting ripped off. Some book apps believe that less is more, but I believe that more is 'mo better'", said Greg.
Speaking about the characteristics of the app, developer ZebraMinds, has pointed at a possibility of interaction with each letter, playing with musical notes and a wide array of different sounds – The most important thing is that children will have fun and be exposed to different music and beautiful illustrations. Mr. Carr's illustrations are stunningly rich with many layers and details and provide plenty of learning opportunities. Even after listening to narration so many times while developing the app, Mr. Daniels' style always delights. For us - the biggest challenge has been selecting the best music or sound for different letters. Also, we had to enhance our physics engine to move the musical notes smoothly and let them follow the touch. They are trenemdous fun to play with or let freely float around following the device movement.
Useful links: