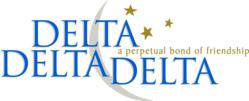 Arlington, TX (PRWEB) April 20, 2012
Four Delta Delta Delta Fraternity student leaders will travel to Washington, D.C., on April 21 to act as advocates for the Greek agenda. Ginnye Cubel, Butler, Anna McCracken, Elon, Alexandria Hill, Nevada, and Alexandra Bortot, Pittsburg, will represent Tri Delta's 138 collegiate chapters.
The four women will join members of the North-American Interfraternity Conference and the National Panhellenic Conference who will meet with congressional leaders and lobby on behalf of legislature affecting Greek college students, such as the Collegiate Housing and Infrastructure Act (CHIA). CHIA gives equal tax rights to non-profit organizations providing student housing, including fraternal entities like Delta Delta Delta's National House Corporation. Fraternities and sororities provide housing for over 250,000 students each year, nearly one out of every eight students in America. The passing of the CHIA will allow non-profit student entities to use charitable contributions to build and maintain housing for these students. Student participation is one of the biggest factors for helping to gain support in Congress for legislation important to the success of these Greek organizations.
Participant Ginnye Cubel says that after living both in and out of the sorority house, she is passionate about encouraging change on Capitol Hill to make Greek housing safer and more affordable. Similarly, participant Alexandria Hill says she is looking forward to the opportunity to meet with other Tri Deltas and Greeks throughout the nation in order to lobby at Capitol Hill.
"Living at Tri Delta for the past three years has given me a deep perspective for the benefits of Greek housing, and I look forward to ensuring that this privilege is extended to future Greeks," states Alexandria.
Accompanying Tri Deltas student leaders are: Jackye Brown Clark, Tri Delta Fraternity President; Alison Ream Griffin, Tri Delta Executive Board member; Eve Woods Riley, Former National President and Tri Delta's National Panhellenic Conference Delegate; Sarah Coons Lindsay, Former National President, Government Relations Chair, Fraternity & Sorority Political Action Committee; Cari Cook, Tri Delta Executive Director; and Jennifer Kennedy Thomas, Tri Delta National House Corporation Senior Director of Operations, Fraternity & Sorority PAC Finance Committee.
About Tri Delta
Founded in 1888, Tri Delta is a leader among social Greek organizations through its passion for progress and visionary thinking. Through partnerships with nationally recognized organizations like St. Jude Children's Research Hospital, award-winning publications like The Trident and innovative collegiate and alumnae initiatives, Tri Delta is committed to leveraging our timeless values to revitalize the sorority experience. For more information, please visit http://www.tridelta.org or call (817) 633-8001.