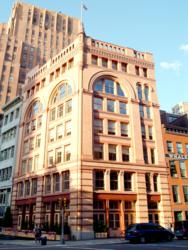 New York, NY (PRWEB) April 23, 2012
CityRealty, a leading New York City apartment search and resource site, today announced its list of Top 10 Apartment Buildings in New York's TriBeCa neighborhood. The list coincides with this month's TriBeCa Film Festival.
"TriBeCa is one of the few Manhattan neighborhoods that has a fine mix of very attractive, older industrial buildings, most of which have now been converted to residential use; some very excellent, newer, contextual replacements; and a few good modern buildings," said Carter B. Horsley, CityRealty editor and architecture expert, who developed the list.
1. The Hubert, 7 Hubert Street
Developed in 2003, The Hubert is one of the most attractive Post-Modern buildings in the city. With fine materials and an excellent sense of proportion, it applied the industrial building style of the 1920s and 1930s to a modern residential project. The clean, neat and large multi-pane windows distinguish this 16-story building, which has 33 condominium apartments.
2. 140 Franklin Street
This handsome six-story 1887 Romanesque-Revival-style building was designed by Albert Wagner, who also designed the famous Puck Building on Lafayette Street. With 12 very large apartments, the condo building features lively facades with balustraded rooflines, large arched windows, and an interesting protruding design element on its top outside corner.
3. 101 Warren Street
This impressive, full block development has a 35-story tower with distinctive arcades and facades that resemble elongated checkerboards, plus an "Artrium," a pine tree forest, and a "Bloomberg Financial Lounge." The project, completed in 2007, has 227 condominium apartments and 132 rental units.
4. River Lofts, 92 Laight Street and 416 and 424 Washington Street
River Lofts is one of the larger and more important TriBeCa conversion projects. It combines a six-story building developed in 1882 as a sugar refinery with a new 13-story building completed in 2004—and connects them with an attractive skylit corridor. Both red-bricked structures have arched windows, and the project contains 68 loft-style condominium apartments with Hudson River views.
5. Pearline Soap Factory, 414 Washington Street
Named for a company that formerly occupied the site, this seven-story condominium building was designed by Joseph Pell Lombardi, one of the city's best-known preservation specialists. Completed in 2008, the building has large, multi-paned, arched windows and 12 spacious apartments.
6. The Northmoore, 53 North Moore Street
Converted from a 19th Century Building in 2001, the handsome, eight-story Northmoore has a loggia with a skylit lobby, plus 49 condominium apartments with high ceilings.
7. The Cobblestone Lofts, 28 Laight Street
Another handsome loft conversion, this attractive seven-story project was designed by architect Chris Smith of CMS Design and completed in 2001. It is comprised of four red brick late 19th Century warehouses and contains 32 condo apartments.
8. The American Thread Building, 260 West Broadway
Completed in 1980, this was one of TriBeCa's first conversions of a large commercial building to luxury loft apartments. Erected in 1893 as the Wool Exchange Building, this impressive 11-story structure with 51 apartments is notable for its curved frontage and imposing staircase entrance.
9. The Powell Building, 105 Hudson Street
This ornate 11-story building is one of the most impressive in TriBeCa. It was designed by Carrere & Hastings—the firm that also designed the New York Public Library—and has large arched windows and a façade enlivened by pilasters, pediments and bandcourses. Built in 1892 for Henry Pierce, it was known as the Pierce Building until being sold to Alexander Powell in 1903. The building has 16 cooperative apartments, office space, and the famous restaurant, Nobu.
10. Mohawk Atelier, 161 Duane Street
One of the best looking buildings in TriBeCa, Mohawk Atelier was converted in 2009 from two 19th Century commercial buildings: One an 1891 Romanesque Revival style and the other built in 1845 and used for whalebone cutting. This condominium building, yet another converted by Joseph Pell Lombardi, has 12 apartments.
About Carter B. Horsley
Mr. Horsley, editor of CityRealty, writes "Carter's View on Manhattan Real Estate" and his popular "CityRealty's Top 10 Buildings" lists. Prior to joining the online real estate and apartment search site, he spent 26 years writing for The New York Times as a real estate and architecture news reporter. In addition, he produced the syndicated radio program, "The Front Page of Tomorrow's New York Times," which was a WQXR standard. He later served as real estate editor and architectural critic for The New York Post and International Herald Tribune.
About CityRealty
CityRealty.com is a New York City apartment search and real estate site established in 1994. CityRealty streamlines the apartment search process by matching buyers and renters with qualified real estate agents who are screened for market knowledge, expertise, professionalism and client compatibility. Additional information about CityRealty is available at http://www.cityrealty.com or by calling (212) 755-5544.