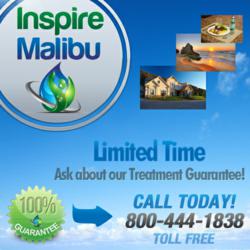 Hand sanitizer awareness campaign launched by Inspire Malibu
Malibu, CA (PRWEB) April 24, 2012
Dr. Akikur Mohammad, Founder of Inspire Malibu, recognized by many as the top addiction treatment center in Malibu, California and Assistant Clinical Professor of Psychiatry and the Behavioral Sciences at the University of Southern California (http://www.USC.edu), announced today that his team at Inspire Malibu is launching an awareness campaign designed to draw attention to the rising number of adolescents and adults abusing hand sanitizer throughout the United States..
Dr. Mohammad said, "Hand sanitizer has a very high concentration of alcohol and by simply adding salt to some types of hand sanitizer, it can be converted to nearly pure alcohol, which can not just get someone severely inebriated, it can kill them. There has been a huge rise in sanitizer abuse among adolescents based on how easy it is to get and conceal. There are even incidents of 'huffing" sanitizer in schools and the fact that something with that level of alcohol is readily available in schools, theaters, hospitals and pretty much anywhere is potentially dangerous." Mohammad added, "Parents, schools, local business owners, etc. need to be vigilant about the surge in hand sanitizer abuse among teens and adults. Switching to non-alcohol sanitizers is a step in the right direction but with the recent swell in flu outbreak in the past few years, we are seeing a direct increase in sanitizer abuse and that is certainly not a coincidence. In fact, there is even an alarming spike in drug and alcohol treatment centers reporting abuse and relapse as a result of hand sanitizer abuse, which is why Inspire is not only leading the charge against sanitizer abuse."
Dr. Mohammad and his team will be holding a series of summit meetings, which will be dedicated to educating professionals about the proper course of action when treating addicts and selecting the most effective drug rehab. Mohammad added, "Our expert team at Inspire Malibu has also built a specific protocol for treating patients who are suffering from the effects of sanitizer abuse. It needs to be treated in a very specific way and Inspire Malibu is one of only a few facilities in the world that have a specific treatment protocol."
For more information about Dr. Akikur Mohammad, addiction treatment and Inspire Malibu, visit InspireMalibu.