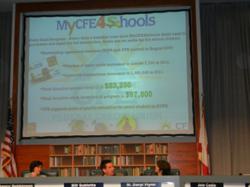 The MyCFE4Schools debit card program is an opportunity for members to actively participate in giving to schools without having to pay themselves." ~Suzanne Dusch, VP Marketing
Lake Mary, FL (PRWEB) April 20, 2012
The 2012-13 State Budget referred to as the "education budget", was signed by Governor Rick Scott on April 17, providing for $1 billion in additional education funding. This increase in funding provides some relief, but Central Florida's financially strained public schools could benefit from additional community support. Lake Mary based CFE Federal Credit Union (CFE) is helping meet the challenge, raising more than $90,000 in 2011 for Orange, Osceola and Seminole County public school districts with its innovative debit card program.
The debit card program known as MyCFE4Schools, was launched in August 2009 as an easy, no-cost way for credit union members to earn donations for their local school districts. Every time a member swipes his or her MyCFE4Schools debit card and signs for the purchase, CFE donates five cents to the school district of the member's choice. At the end of each year the donations are totaled by school district, and each receives an annual lump sum amount. Those nickels add up quickly. Since the program began, CFE has raised a total of $166,500 for the three participating districts.
There is no limit on the amount of MyCFE4Schools donations that CFE will pay. Success depends upon the number of cardholders using the card to make signature purchases. The more they swipe, the more CFE pays, and there's no additional cost to the cardholder. CFE pays 100% of the donation and it does not charge an annual debit card fee. Considering that 60% of Florida voters say they would be willing to pay $200 more in taxes to provide increased funding for education according to a March, 2012 survey by the College Board, the MyCFE4Schools debit card seems like a clear solution for Central Floridians.
"CFE has always been an avid partner in education, and MyCFE4Schools is an opportunity for members to actively participate in giving to schools without having to pay themselves" said Suzanne Dusch, Vice President of Marketing for CFE. "CFE originally began as an educators' credit union, and although we've expanded our membership to all of Central Florida, we've never forgotten our roots."
CFE's membership is open to anyone who lives, works, attends school, volunteers, or worships in the Orange, Osceola, Lake or Seminole Counties of Florida. More information about the MyCFE4Schools debit card and credit union membership is available at CFE's website, http://www.mycfe.com.
CFE Federal Credit Union was founded in 1937 and currently serves approximately 121,000 members. As of January 31, 2012, CFE had total assets of over $1.290 billion and deposits of over $1,073 million.
###