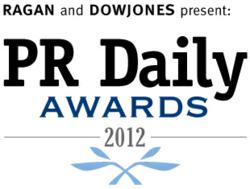 Chicago, IL (PRWEB) April 20, 2012
Ragan Communications and its public relations news website, PRDaily.com, announced today the finalists in Ragan's first annual public relations contest, the "PR Daily Awards presented by Ragan and Dow Jones."
PRDaily.com is the No. 1 international online news site in the industry.
The PR Daily Awards finalist list comprises more than 250 entries from corporations, public relations and government agencies and nonprofits contending in 45 categories in traditional and social-media public relations.
The winners will be announced at a special luncheon ceremony in Washington, D.C. on September 11, 2012, in conjunction with the Public Relations Best Practices Summit conference held at the Newseum. The conference is sponsored by Ragan and Dow Jones.
Lauren Yanow, the Awards Coordinator for Ragan, noted that the response to the PR Daily Awards exceeded everyone's expectations: "We received hundreds and hundreds of entries. It was a bit overwhelming—but very satisfying."
Mark Ragan, CEO, Ragan Communications, said, "Three facts about the PR Daily Awards really struck me:

first, it was our initial venture into a well-established awards venue, and we thought we were taking a chance, which proved not to be the case;
second, the response far surpassed what we expected;
third, the terrific imagination shown by so many agencies, companies, and organizations in the blend of traditional and social media PR they brought not only to product and brand promotion but to cause-related and social-responsibility publicity. There are so many amazingly ingenious, cost-efficient campaigns in these entries. Choosing one winner per category is going to be very hard."
Yanow pointed out that more than one-third of the PR Daily Award categories, 16 of 45, fell under social media public relations: "We were a little hesitant about emphasizing social media in our categories. We shouldn't have worried. The response in social media was tremendous."
PRDaily.com, founded three years ago in February, 2009, has grown in the last six months to the No. 1 national and international online PR news site, from 10,000 email subscribers to 46,000 and from 1,000 visitors per day in 2009 to over 30,000 daily visitors in March, 2012. The site gets just under a million page views a month. Michael Sebastian is PR Daily's Managing Editor.
About Ragan Communications:
Ragan Communications operates two of the top news and information sites for the PR and corporate communications industry—Ragan.com and PRDaily.com. These daily news sites attract nearly 700,000 global visitors. The company also covers the health care and HR communication industries with its daily news sites HealthCareCommunication.com and HRCommunication.com. Chicago-based Ragan is also the leading provider of conferences and online training to PR, media relations and corporate communications professionals.