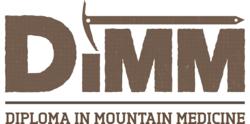 The WMS/University of Utah/University of Colorado program meets requirements of and is fully approved by UIAA, ICAR, and ISMM.


Salt Lake City, Utah (PRWEB) April 21, 2012
The Diploma in Mountain Medicine (DiMM) is an exciting program designed to train the participant in the essentials of caring for patients in the technical mountain environment. The DiMM has set the standard over the past 10 years in Europe and other parts of the world for the education of doctors, nurses, and paramedics in mountain medicine and rescue. The Wilderness Medical Society has partnered with the University of Utah and the University of Colorado to introduce this exciting program in the USA. The DiMM is an internationally recognized course certifying that the participant has undergone rigorous training and testing in the essentials of mountain medicine and rescue in technical alpine environments. The medical commissions of the International Mountaineering and Climbing Federation (UIAA) and International Commission for Alpine Rescue (ICAR), together with the International Society for Mountain Medicine (ISMM), established minimal requirements for these courses in 1997. At the end of the course, physicians will be awarded the qualification of Diploma in Mountain Medicine and nurses and paramedics will be awarded the Certificate in Mountain Medicine.
The DiMM is intended as continuing education for doctors, nurses, and paramedics who work in or aspire to work in austere environments. The required coursework is an ideal blend of didactic and practical education in wilderness medicine, technical rescue, and self-sufficiency in the backcountry. This skill set crosses a multitude of disciplines including expedition medicine, search and rescue operations, mountain guiding, ski patrol, and mountain recreationalists.
The program is divided into four weeklong sessions that should be completed within a two-year time period. Two of these weeklong sessions will be primarily didactic and offered in conjunction with WMS conferences. The other two weeklong sessions will be aimed at acquisition of practical mountain rescue skills. The experts at Remote Rescue Training will teach these dynamic technical courses.
Due to the demanding physical nature of the DiMM field sessions, some basic prerequisites are required to ensure a safe learning environment for all participants. Doctors, nurses, or medics enrolling in this program of study must have experience with backcountry hiking, beginner/intermediate-level rock climbing safety systems, snow travel, and cold-weather camping
For more information on this program and the 2012 session dates and places visit http://wms.org/education/dimm.asp
The Wilderness Medical Society (WMS), a 501(c)3 organization, is the world's leading organization devoted to wilderness medical challenges. Wilderness medicine topics include expedition and disaster medicine, dive medicine, search and rescue, altitude illness, cold- and heat-related illness, wilderness trauma, submersion injuries, envenomation, and wild animal attacks.Founded in 1983, the WMS has long-standing commitment to education and research, sponsoring accredited continuing medical education conferences, publishing a peer-reviewed quarterly medical journal, a quarterly magazine, a professional presentation series, and practice guidelines for wilderness emergency care.