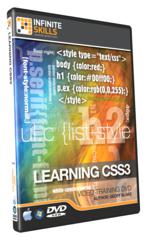 Learn CSS3 Quickly and Easily
(PRWEB) April 19, 2012
Software training firm InfiniteSkills Inc. last week released its Learning CSS3 Tutorial Video course, a multi-part training series designed to introduce new web designers to the basics of the popular web formatting and graphics platform. The beginners course teaches the basics of effective web design, focusing on the specific capabilities and new features of CSS3.
CSS is a style sheet language commonly used alongside HTML and XHTM to create the presentational elements of web pages. The InfiniteSkills Learning CSS3 Tutorial DVD explains the fundamental techniques involved in using CSS3 to design visual components and format the layout of web pages.
The tutorial explains important functions such as how to work with CSS3 selector types, using the CSS box model, creating page layouts and floating layouts, integrating navigation elements, and creating special effects such as rounded edges, shading, and drop shadows.
Learning CSS3 Training Video - Tutorial on DVD
Before cascading style sheets were made popular, most of the visual attributes of web pages were contained within the HTML markup language. As web pages became more and more complex, these graphical elements became more and more difficult to code. The CSS language allows web designers to use a separate language and file system for those elements, greatly simplifying HTML coding.
Course author Geoff Blake is an expert in the field of web design with nearly a decade of experience in graphic-focused page design and using markup languages and cascading style sheets. His high energy teaching-style explains the technical concepts in a fun and innovative way, putting the tools for CSS3 web design right at the user's finger tips.
"The Learning CSS3 Video Training DVD really opens up the capabilities of CSS3 for beginning web designers," says InfiniteSkills content specialist Chris Johns. "Our approach guides users through a hands-on, experience based course in which users learn by actually using important CSS3 techniques to build a website.
"Geoff's approach to teaching," Johns adds, "really makes it simple for beginners to increase their skill level."
InfiniteSkills offers the Learning CSS3 Tutorial either as a DVD-ROM or a direct download from the company website for a retail price of $99.95, with purchasing options available worldwide. The CSS3 course, as with all InfiniteSkills titles and formats, are both Mac and Windows compatible. In addition, a set of supporting program files are supplied along with InfiniteSkills tutorials provide important models and examples to be used in concert with the videos.
Free demo videos and a full list of course contents can be found on the Learning CSS3 Tutorial DVD training page on the company website:
Learning CSS3 Tutorial Video on DVD-ROM
About InfiniteSkills Inc.
A leader in the field of technology training, InfiniteSkills training is guided by an innovative, task oriented model for teaching complex technology concepts. InfiniteSkills offers tutorials covering a broad range of technology topics in popular formats: as DVDs, digital downloads, and in iPad editions, delivering professional training to customers anywhere they want to learn.