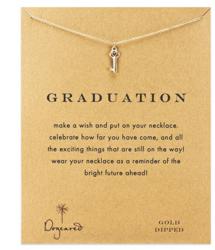 You've come a long way! Handcrafted with love, our heart key charm brings hope and excitement to whoever wears it. And with a gift this easy, you'll be eager to share the love!
Los Angeles, CA (PRWEB) April 20, 2012
Dogeared Jewels & Gifts, a trendsetting fashion brand known for innovative designs and a cool California aesthetic, is proud to presents some top selling gifts for grads and sorority sisters. These gifts celebrate the accomplishment while preparing grads for their next big milestone.
Graduation necklaces feature custom charms on cards with messages of hope, inspiration, wisdom, and humor. All Dogeared charms are hand-cast in Los Angeles using recycled sterling silver, and gold ones are individually hand-dipped. Each is truly one-of-a-kind. Along with their signature style, artisanal quality and craftsmanship have become synonymous with the Dogeared brand.
Here are some best-selling favorites for grads:
1. Good Luck Elephant
2. Pearls of Success
3. Past Present Future
4. Graduation - Heart Key
5. Yesterday Today Forever
6. Kick Ass
7. New Beginnings
8. Accomplish Magnificent Things
9. It's the Journey - North Star & Mantra from CREATE Collection
10. Carpe Diem
11. Sorority Sisters Forever Collection

**Another new favorite: Lucky Cat
Prices range from approximately $25 - $125.
Dogeared Jewels & Gifts
Designer Marcia Maizel-Clarke founded Dogeared Jewels & Gifts just over 20 years ago in Southern California. Originating word jewelry, she began creating beautiful pieces with the purpose of putting positive, peaceful, and loving energy into the world. This energy has always included being kind to the planet, handcrafting all the jewels and gifts in California, and working with non-profit organizations sharing a vision of a better world. Dogeared's unique, custom-cast jewels are regularly featured in fashion, lifestyle, and celebrity publications, in films and on television shows. Trendsetting retailers around the world, including Nordstrom, Neiman Marcus, Bloomingdale's, Fred Segal, and ABC Home, all carry Dogeared. Dogeared is a certified B Corporation. Please visit http://www.dogeared.com for Dogeared's online flagship store. For wholesale information, visit http://www.dogearedwholesale.com.