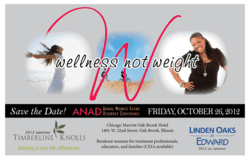 Chicago, IL (PRWEB) April 21, 2012
"Working Together across the Full Spectrum of Eating Disorders" October 26, 2012 is designed for healthcare providers or people affected by eating disorders. It will include sessions for families, health/education professionals and clinicians. There will be 8 workshops of 90 minutes, and 4 workshops of 60 minutes, for either a BASIC track, or INTERMEDIATE ADVANCED track. This one day conference will provide 5.5 CEU's, lunch and refreshments included.
Please submit your proposal for:

BASIC: Families, Individuals, or Health Professionals -content will include original and empirically supported approaches to eating disorders education, treatment and prevention. Resources and Recovery applications for family and treatment teams.
INTERMEDIATE/ADVANCED: Experienced ED Clinicians -this audience has eating disorders treatment experience, content should examine new and innovative treatment practices. Topics may examine: pregnancy, males, mature women, treatment resistance, binge eating, health centered approaches, nutritional intervention, co-morbidity, body image, or weight stigma.
Conference Goals:
o Help family members, recovered individuals, and advocates to connect and share relevant and supportive information that can be transformed into action.
o Offer clinicians, health care professionals skills that can improve treatment outcomes.
o Provide a national convening to promote inclusiveness, enthusiasm, energy, optimism and a vision of hope for all conference attendees.
Presentation Expectations:
Breakouts will be either 60 or 90 minutes. Use of media (videos, charts or graphics are expected). Priority will be given to proposals that demonstrate an interactive presentation style and emphasize skill building rather than just theory and research. Refreshments, lunch and attendance at other sessions are offered to one presenter for each workshop. Please use this template and include your curriculum vitae to anadconference(at)anad(dot)org
Exhibitor/Sponsorship Opportunities:
Attendance of 250 is anticipated. There will be 30 min breaks and refreshments in the exhibitor hall to encourage participation. Sponsorship opportunities will allow for greater exposure. Prospectus.
Questions and clarifications are welcome: 630-577-1330 or anadconference(at)anad(dot)org