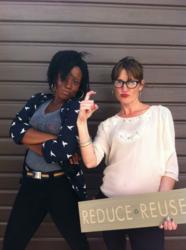 Recycle It!
Los Angeles, CA (PRWEB) April 20, 2012
"Recycle It!" was born from the idea to both educate and entertain through art. It's no secret learning has had the stigma of being dull or boring.
With a new twist, Dana L. Wilson AKA "D$" conceptualized and wrote "Recycle It!" which epitomizes her true essence. In the regards to both Ying and Yang, Dana found a friend who is equally environmentally aware. Along with the help of Dawn Azura McElhare AKA "Ghetto Granola", these ladies, hard hitting spirits encourage one to do the right thing.
This digital short is funny, entertaining, educational, catchy, and viewers may find themselves singing it all day. "Recycle It!"
Director: Andy Schlachtenhaufen http://vimeo.com/user1741842
Beats/ Track: Ryan Aicklen
Vocal Recording: Dan Zacharias
Mixed by: Jay Skinner at Arsenal Music http://www.soundarsenal.com
Starring & Written by: Dana Wilson with Dawn Azura McElhare
Tuesday Mornings/ Crew: DaJuan Johnson, Joseph Williamson, Stacy White
http://www.dawnmcelhare.com
This message encourages people to be conscious of their actions, and become aware of their impact on the environment. Or else these kooky ladies will have to school suckas again!!!