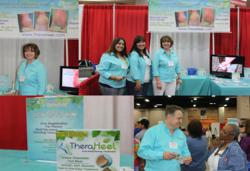 Los Angeles, California (PRWEB) April 20, 2012
April 20th, 2012 On Saturday the 14th of April, TheraHeel participated in the American Diabetes Association Expo in San Antonio, Texas. Elisa Marek, TheraHeel's C.O.O. said of the event, "Supporting the American Diabetes Association gave us an opportunity to be more involved with the diabetic community and focus on foot health and reducing the number of potential infections which could lead to the loss of limbs."
TheraHeel is the ideal alternative to using metal blade callus removers and offers a much safer solution for foot health, care and appearance to the diabetic community. Using TheraHeel eliminates the risk of infections, which are common when using callus removers and when visiting nail salons. The TheraHeel Resurfacing Mask contains a unique blend of natural fruit and plant acids that penetrate the tough, thick layers of dry, dead skin on your feet. In the days following a TheraHeel treatment, the acid effects will create a gentle, gradual peeling of the dead skin and calluses.
The American Diabetes Association Expo includes health screenings, cooking demonstrations, product and service exhibitors, as well as leading experts talking about diabetes management and prevention.