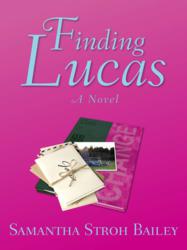 "As I tell Lucy, something funny moves around my heart, and I think it's pain. There must be some reason that an ex-boyfriend or whatever from ten years ago makes me feel more than everything that's happening now."
(PRWEB) April 26, 2012
Raunchy, smart and fun, Finding Lucas is not just your average romantic comedy. It explores real issues of self-esteem, family dynamics and dysfunctional love—challenges that everyone faces at some point in their lives. Laugh-out-loud hilarious, snappy and relatable, Finding Lucas answers the question whether you can ever really go back to the past.
On her fifth anniversary with boyfriend Derek, Jamie Ross finds herself in a Montreal hotel room wondering how the carefree guy she met in a Chicago bar has turned into "the quintessential metrosexual." Weighed down by Derek's disdain for her second hand wardrobe, her unusual family and low-paying job as an associate producer of a daytime talk show, Jamie reaches a breaking point. And when her new boss plans to reunite lost loves on the show, she remembers Lucas— the boy she'd loved and lost ten years earlier. What follows is a quest that is at times hilarious and at others disastrous as Jamie's life transforms from run of the mill to absolutely crazy. But will finding Lucas give Jamie everything she's looking for?
Samantha Stroh Bailey has been a writer ever since she could pick up a pen. She sent her first romantic comedy manuscript, Freddy the Flame, to publishers at the age of ten. A former ESL teacher, she now spends her days writing and editing as owner of Perfect Pen Communications. Her work has appeared in Now Magazine, The Village Post, Oxford University Press, Abilities Magazine, on Mommyish.com as well as her blog at samanthastrohbailey.blogspot.ca. She lives in Toronto with her husband and two children. Her romantic comedy, Finding Lucas, is her first novel.
Format: Kindle eBook Price: $0.99