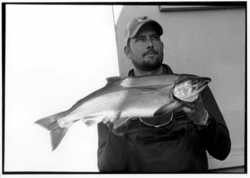 We are committed to preserving and enhancing the world class fishing experience at Rainbow King Lodge, the one-of-a-kind legacy lodge of Alaska, for our sons and daughters, as well as future generations
-Rodger Glaspey, President
Iliamna, Alaska (PRWEB) April 19, 2012
Rainbow King Lodge, a 40 year-old operation set on the banks of the largest lake in Alaska and allowing access to 20,000 square miles of Southwest Alaska's best sport fishing, announces new ownership and major renovations to their lodge.
Four new owners have purchased Rainbow King Lodge: Rodger Glaspey, its President, along with Ted Sheely and his sons, Zach and Jake Sheely. Since 1989, the new owners have collectively visited Rainbow King for the last 35 years.
Work has begun to update and enhance the lodge from the ground up, including replacement of building foundations, French drains and grading improvements, new heating and hot water systems and the complete refurnishing of the 2 fourplexes, all of which will be finished during the 2012 season. The room improvements include custom made mattresses modeled to surpass the Westin "Heavenly" bed, new linens, carpets, furnishings and completely new bathrooms. A new website has also been launched.
One of three De Havilland planes (two Otters, one Beaver) has been totally retrofitted, from engine to cabin, with new avionics, upholstery and paint. The state-of-the-art planes specialize in carrying heavy loads and taking off at speeds as low as 45 mph to maximize access to smaller bodies of water.
Chef Ken Barkley, formerly of Emerald Resorts, has recently consulted with Chef Jeff Jake of Silverado Resort in Napa, California, regarding Rainbow King's new menu, which will focus on local influence and the finest ingredients sourced from North America. Chef Barkley combines his southern roots with the classic French techniques taught him by Chef Bernard, Cajun principles from his short stint at Commander's Palace /Chef Emeril Lagasse, Classic Italian from a week with the Gabriele brothers at Vincenzo's and Pacific Rim influences from Tran Li-Kwan at Nham Pla Cafeh.
"We are committed to preserving and enhancing the world class fishing experience at Rainbow King Lodge, the one-of-a-kind legacy lodge of Alaska, for our sons and daughters, as well as future generations," stated Glaspey.
"Of particular attention is the effort to maintain the Rainbow King Lodge experience and feel while committing to the enhancement and stewardship of the "unique resource at the edge of the wilderness," said Glaspey.
Rainbow King has long been synonymous with trophy sport fishing for Rainbow trout, King, Silver, Sockeye, Chum and Pink Salmon as well as Char, Grayling and Halibut. Accessible only by air, Rainbow King Lodge is positioned at the epicenter of the Bristol Bay drainage area, including the Kvichak, Kamishak, Lower Tularik, Moraine, Copper, Brooks and Newhalem Rivers among others. This is the only designated trophy trout fishing area in Alaska and provides exclusive fishing access to 5 "unnamed" privately licensed streams available only to Rainbow King Lodge guests.
For more information regarding Rainbow King Lodge, please visit the website or call 800.458.6539.