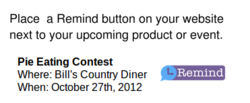 (PRWEB) April 20, 2012
Cronote's reminder buttons let website visitors schedule reminders about upcoming products, shows and events. Here's a fun example:
Pie Eating Conest
Where: Bill's Country Diner
When: October 27th, 2012
Click here to schedule a reminder: Remind
Previously, individuals and businesses had to sign up for a Cronote account in order to create a button. Cronote recognizes that consumers would like to try out new products before making a purchase. There is now a simple "Button Builder" widget placed on Cronote's Remind Button homepage, http://www.cronote.com/remindbutton.shtml, that lets anyone create a button.
Buttons that are created anonymously are provided the same level of support as buttons created by registered users. If an individual or business subsequently signs up for a Cronote account, their anonymously-created buttons may be transferred to their account via a simple email request to cronote(at)cronote(dot)com.
Here's another reminder button example:
New Movie Premiere
Where: Los Angeles, CA
When: June 17, 2012
Click here to schedule a reminder: Remind
Cronote provides several images that may be used in place of the "Remind" text and users are free to use their own image. Users who choose to add text-message reminder functional to their buttons are charged a nominal 5 cents per reminder. A simplified pricing model enables individuals and businesses to purchase text message reminders in packs of 20 ($1), 100 ($5) or 200 ($10).
About Cronote
Cronote is a web-based company established in August 2010. Cronote aims to provide quick and easy ways to schedule reminders (http://www.cronote.com).