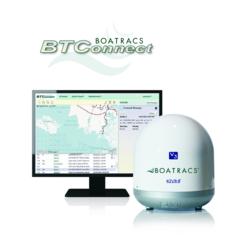 KVH and Boatracs share the vision of making broadband accessible to small and medium fleets as critical software applications continue to drive the need for increased bandwidth.
San Diego, California (PRWEB) April 24, 2012
Boatracs Inc., a leader in providing integrated satellite communications and software solutions to the maritime industry, and KVH Industries, Inc., (Nasdaq: KVHI), a leading provider of in-motion satellite TV and communication systems, are collaborating to deliver an end-to-end mini-VSAT Broadband(SM) solution for small to medium sized businesses in the commercial workboat and fishing markets.
Sold through Boatracs, the Boatracs mini-VSAT Fleet Management Solution includes a TracPhone® V3 (to be called the Boatracs mini-VSAT V3), for global broadband connectivity as well as Boatracs' web-based fleet management platform, Boatracs BTConnect®. Boatracs' other maritime software products will also be available including BTForms™, an electronic forms solution that automates and simplifies vessel data collection for operations, reporting and compliance record keeping. This new solution will be made available and supported through KVH and Boatracs' loyal certified dealer network.
"We are very excited to partner with an innovative top-tier company like KVH to integrate the award winning TracPhone® mini-VSAT Broadband system with Boatracs' software solutions for the commercial maritime market," said Irwin Rodrigues, President and CEO of Boatracs. "With increased regulatory compliance reporting and heightened competition, the needs of our customers have evolved dramatically over the past few years. We're seeing a growing need for simple yet highly effective integrated solutions that drive operational efficiencies, vessel productivity and compliance. The Boatracs mini-VSAT Fleet Management Solution meets these requirements in an affordable package through a single provider known in the industry for reliable service and a dedication to customer support."
The TracPhone V3 is the world's smallest maritime VSAT antenna, designed for vessels as small as 30 feet. With airtime rates 1/10th the cost of L-band systems, the mini-VSAT network offers downloads as fast as 2Mbps at $0.99 per MB and phone calls worldwide at only $0.49 per minute. The benefits of the product have changed the game for satellite communications since being introduced by KVH in February 2011 due to its small size, fast data rates and affordable service. Powered by the largest VSAT network in the world, Boatracs' unique offering will enable commercial maritime owners and operators to justify the need for reliable satellite communications on board their fleets of vessels.
Boatracs BTConnect® is a web-based solution that integrates message and mapping functionality, providing access to fleet-wide data from anywhere on any device. With features such as route planning, custom landmarks and global map layers, BTConnect ties together the critical functions of visually managing a fleet with two-way messaging to improve dispatching, accelerate invoicing and streamline shore side operations.
"KVH and Boatracs share the vision of making broadband accessible to small and medium fleets as critical software applications continue to drive the need for increased bandwidth," said Brent C. Bruun, Senior Vice President of Global Sales and Business Development at KVH Industries. "By offering this combination of leading products and services in a turnkey package, workboat and commercial fishing companies can implement a high-speed voice and data service and be realizing the benefits of fleet management software immediately. We are pleased to partner with Boatracs as a demonstrated leader of integrated satellite communications solutions."
About Boatracs
Boatracs is the leading provider of integrated satellite communications and software solutions for the commercial maritime industry. Since 1990 Boatracs has been providing customers the industry's most proven, reliable, and simple solutions on the market. Boatracs now offers multiple communications solutions ranging from its core Qualcomm OmniTRACS product line to newer multi-mode broadband and voice capabilities, all powered by Boatracs' web-based messaging and mapping software to provide access to fleet-wide data from anywhere on any device. Today Boatracs delivers products, services and 24/7/365 live customer support to offshore, inland, commercial fishing and government markets – increasing operating efficiencies for thousands of vessels across North America. The company has offices in California and Louisiana. For more information, please visit us at: http://www.boatracs.com
About KVH Industries, Inc.
KVH Industries, Inc., is the leading provider of in-motion satellite TV and communications systems, having designed, manufactured, and sold more than 150,000 mobile satellite antennas for applications on vessels, vehicles, and aircraft. In March 2012, Euroconsult reported that KVH was the market share leader in global maritime VSAT. KVH's mission is to connect mobile customers around the globe with the same digital television entertainment, communications, and Internet services that they enjoy in their homes and offices. The company is based in Middletown, RI, with facilities in Illinois, Denmark, Norway, and Singapore. For more information please visit: http://www.kvh.com