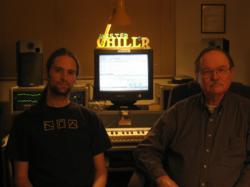 Portland, OR (PRWEB) April 20, 2012
A thoughtful, relaxing blend of traditional Colombian instruments, Latin piano, and ripping synths, "Cumbia Dub" strikes a balance between the acoustic and the synthetic, being equally suited to both dancing and chilling, as many of Chaos Control's tracks are. As the duo says, "it makes you feel like you're on vacation."
The track is the very first release on Chaos Control's new Waveguild label imprint, and has been wildly successful. Soon after it was released, the track was snapped up and featured on generation bass.com, a music blog with over 4000 daily visitors from around the globe. While Chaos Control will not get the metrics of sales from Beatport, iTunes and other stores until late April, they expect the numbers to be huge.
Knowa KnowOne is an icon of the U.S. glitch-hop movement, the newest flavor of bass-heavy, gritty electronic music to make a name for itself and establish a new category in the record stores. His record label Street Ritual was one of the first to begin commercially releasing glitch-hop, long before it was a recognized genre on Beatport, the world largest digital download store for DJs.
As the only artists to remix Knowa to date, Chaos Control is excited about future possibilities of working with Knowa. Planewalker has confirmed that Knowa has begun work on an EP to be released by Waveguild this year, which is sure to do well, considering that every one of Knowa's releases has charted at #1 on addictech.com, the premier bass music digital download store for DJs.