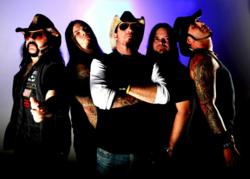 Hellyeah rocked our studios hard. With our 2000 watt amplified playback system, the parking lot was literally shaking!
Burbank, CA (PRWEB) April 20, 2012
HELLYEAH's video for the song "Drink, Drank, Drunk" was filmed on March 26. The clip was directed by David Brodsky of MyGoodEye at LOYAL STUDIOS, who has previously worked with THE BLACK DAHLIA MURDER, GOATWHORE, MUNICIPAL WASTE and SUFFOCATION, among many others.
Loyal Studios in Burbank has become a favorite for artists looking to produce high-definition greenscreen music videos. The two stages in Burbank and Santa Monica have a history of hosting great talents from Snoop Dogg, to Jason Bonham, to Ray J and Bret Michaels, as well as producing videos for Nicole Sherzinger, LMFAO, ODD FUTURE and NEVERSHOUTNEVER.
"HELLYEAH rocked our studios hard," says producer and CEO of Loyal Studios, Bob Bekian. "With our 2000-watt amplified playback system, the parking lot was literally shaking! David Brodsky and his crew shot this project with a series of cameras including the Canon 5D and 7D models with Zeiss prime lenses.
MyGoodEye chose Loyal due to their friendly crews and technical support as well as a place where artists feel comfortable and free to express themselves. The new addition of a complete post-production and editing studio inside the shooting location combined with their 75 HD camera systems has put Loyal Studios into a unique position to be able to offer a one-stop shop for producers.
"Band Of Brothers" is the title track of HELLYEAH's new album, which will be released on July 17 via HELLYEAH's new label home, Eleven Seven Music. The CD was recorded in Dallas, Texas at Vinnie Paul's home studio, VP's Upstairs Studio, and was produced by the band and Jeremy Parker (GODSMACK, EVANESCENCE), who also served as engineer.
In a recent interview with Loudwire, Vinnie stated about "Band Of Brothers", "On our first two records, we were a new band. We really wanted to branch out and expand and experiment with all different styles. We all come from traditional metal bands and backgrounds, so it was a great breath of fresh air to play in a band that was rock 'n' roll, blues and Southern rock. We got that out of our system and got really focused on going back to our metal roots. It's heavy, focused, groove-oriented and I'm excited about it."