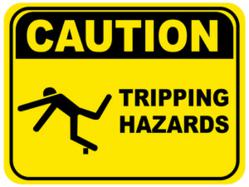 Creative Safety Supply is a leading supplier of safety products and solutions that benefit employees and employers in a factory or warehouse, and even a construction site
Lake Oswego, OR (PRWEB) April 23, 2012
Occupational hazards come in many forms such as dangerous substances or equipment that can cause harm or injury to workers in their working environment. Health hazards, such as toxic substances, can cause a number of infectious diseases if not properly stored and maintained. Similarly, areas where heavy objects can fall and interact with people should be identified, and anyone within the vicinity must be informed of the caution. As such, hazard signs should be put up in areas where there is a potential exposure to danger.
Creative Safety Supply is happy to announce multiple new hazard sign designs to further and more easily inform employees of any hazardous areas or situations. These signs are easy to install, and offers a hassle-free peel-and-stick system. Its floor and wall signs save users time and money making a safety program affordable. The company also offers the most innovated and new sign maker products that allow users the freedom to choose the size and color of their hazard signs.
Creative Safety Supply is a leading supplier of safety products and solutions that benefit employees and employers in a factory or warehouse, and even a construction site. Offering innovative solutions to ensure a hazard-free workplace, the website takes the implementation of safety measures to the highest level. It carries the best and most up-to-date latest 5S, 6S, visual workplace, lean manufacturing, and ergonomic products and systems.
Creative Safety Supply emphasizes that no company can ever underestimate the issue of safety and should do what it takes to avoid workplace accidents. For that reason, measures are constantly taken to minimize or completely eliminate hazards. Continuing to expand its product line and services to meet emerging customer needs, the company offers hazard tapes that are used to mark areas that have the potential to cause accidents.
With years of experience working with modern day facilities across the globe on their resume, Creative Safety Supply understands the way business works and have the solutions for companies to operate as efficiently and safely as possible.
Manufacturing and other companies that recognize the importance of putting up crucial hazard signs should visit Creative Safety Supply to learn more.