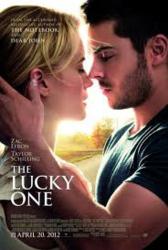 Efron and the production team also went to Camp Pendleton where Zac spent time talking with young Marines. Efron wanted to hear real war stories to ensure he correctly depicted a Marine. DiNovi commented that Efron took it, "very, very seriously."
Davidsonville, MD (PRWEB) April 20, 2012
Denise DiNovi, producer of "The Lucky One," spoke today with Jennifer Pilcher, co-founder of Military1Click, about the romantic drama starring Zac Efron, Taylor Schilling and Blythe Danner. The movie is based on Nicholas Sparks' bestseller The Lucky One and is directed by Academy Award –nominated writer/director Scott Hicks. Zac Efron's character, Logan Thibault, is a U.S. Marine Sergeant on his third tour in Iraq when he discovers a picture of a woman he believes is a lucky charm keeping him alive. After discovering her name is Beth and where she lives, Logan Thibault embarks on a journey to find her and ends up taking a job at her family-run kennel. DiNovi and Pilcher spoke about the process Zac Efron went through emotionally and physically to transform himself into a 28 year old U.S. Marine who served multiple tours in Iraq. DiNovi shared that Efron had expressed interest in The Lucky One's script during their first meeting and said he loved the book and Nicholas Sparks. DiNovi explained to Efron that he would be great, but the character is a 28 year old Marine (Efron is 24). Efron replied that most of his childhood friends are now serving as Marines. DiNovi went on to say to Pilcher that, "the most important qualities of the character, Logan Thibault, are integrity and goodness, which Zac Efron has." DiNovi asked Efron if, "in a very short time, could he look like and be believable as a Marine?" Efron responded that he'd do anything he had to do.
To prepare for the role, DiNovi hired a former Marine to train Efron, making him work out 3 hours daily. They also brought in a nutritionist, who had Efron consume 6000 calories of protein a day, resulting in a 20+ pound of muscle gain for the character. Efron and the production team also went to Camp Pendleton where Zac spent time talking with young Marines. Efron wanted to hear real war stories to ensure he correctly depicted a Marine. DiNovi commented that Efron took it, "very, very seriously."
DiNovi and Pilcher spoke about Nicholas Sparks' passion for military characters, stemming partially from his proximity to major Marine bases coupled with his tremendous respect for military families. DiNovi remarked, "the Marines are a big part of his life and Nick has great admiration for people that overcome difficult odds and that do the right thing." DiNovi, who counts "The Lucky One" as her fourth collaboration with Nicholas Sparks, including "Message in a Bottle", "A Walk to Remember" and "Nights in Rodanthe" talked about how, "…the characteristics with military and non-military characters are consistent with Nick's value system …and his female characters are always mothers, and they always sacrifice their own happiness for their own children…those are the kind of people he writes about."
Pilcher and DiNovi also discussed the dogs featured in the film, which were all rescue dogs. The black Labrador military dog featured in the Iraq war sequence was rescued a just a few weeks before filming. He underwent extensive training for those scenes. DiNovi said, "Nick (Sparks) is a dog fanatic, and has at least four German shepherds and knows that the dogs play a huge role in the war effort."
Pilcher, a military spouse, thanked DiNovi for creating such a heartfelt and accurate portrayal of military life. DiNovi, who expressed appreciation, reflected on last week's premiere at Camp Pendleton. DiNovi said, "when we were on the stage at Camp Pendleton introducing the movie and the General asked all the women to stand up whose men are currently serving overseas and when they all stood up…it made me cry, it's just a great feeling."
Military1Click is giving away 2 tickets to "The Lucky One", compliments of Grace Hill Media. Please visit http://www.military1click.com for the movie ticket giveaway and to hear the entire live interview with Denise DiNovi.
Military1Click.com is "Your Home Base for Military Links and Resources." M1C enhances the lifestyle of military families, veterans and civilians through the best and newest information.
support@military1click.com
https://www.facebook.com/#!/Military1Click
http://twitter.com/#!/military1click.