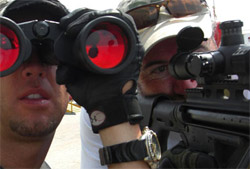 Life is precious, and great care needs to be given by any security firm hired to provide defense.
Arlington, VA (PRWEB) April 20, 2012
It has recently come to the attention of Nexus Consulting that a video of an armed anti-piracy security team embarked on ship (that appears to shoot at small skiff) has been released on the internet. This viral video has unfortunately painted private security in a poor light.
"As president of Nexus Consulting, a leading provider of armed security teams in the defense of mariners against Somali pirates, I would like to personally note that though we are operating quite regularly conducting anti-piracy missions, the team in this video is not a Nexus team," noted Kevin Doherty, President of Nexus.
Though the validity of the video has not yet been verified (as no security firm has come forward to accept responsibility for the incident), the video is troubling on a number of levels.
Life is precious, and great care needs to be given by any security firm hired to provide defense. Threat identification, proper Use of Force (UoF) understanding and incident de-escalation need to be paramount components of every security guard's training.
The Use of Force model is the cornerstone of any security firm. Nexus is thus calling on all security firms working in the maritime arena to review their Use of Force policies. In support of this, Nexus is proudly showcasing their cornerstone UoF policies to clarify any concerns.
Further, Nexus is calling on SAMI to conduct a through review of the incident to ensure that only the highest standards of service are being rendered through the association, and if needed, sanction the firm in the video. Security associations must ensure that firms are held accountable for their actions (and public statements) to ensure governance is not merely a paper tiger.
As an aid to ship owners, Nexus is offering ten simple questions that should help vet any potential security firm they may consider to utilize:
1. Does the security company protect any vessels from their own flag state?
2. Where is their insurance valid?
3. How do they export their weapons?
4. Has the security firm changed names recently?
5. What was their stance on armed details just a year ago?
6. What flag-states have cleared the firm for work?
7. What weapons do they utilize?
8. Do they retreat to the citadel when the bullets start to fly?
9. What P&I clubs have vetted them?
10. Finally, and most important, ask for prior CSO's from firms they have covered and contact them.
Nexus also notes some excellent resources on the use of force thanks to the United States Coast Guard and US Federal Law Enforcement Training Center (FLETC). These resources govern the Nexus use of force policy and ensure the highest standards of preservation of life on the high seas.
"Most importantly to me, I would like to personally thank the all mariners, including my brother Michael, who all regularly transiting these dangerous pirate waters," said Doherty. "These mariners endure such threats - as noted in the video - to ensure humanitarian aid and world commerce continue to get where they're needed - despite the great risk to themselves in doing so."
For more information about Nexus or to receive a free consultation please contact the sales department at: info (at) ncga (dot) us
About Nexus Consulting Group of Alexandria, LLC
Established in 2005, Nexus Consulting is a US veteran-owned and operated private safety and security company that places unprecedented focus on compliance while actively protecting passengers, crews, equipment and cargo from maritime threats. Internationally, Nexus Consulting is taking the lead in maritime security utilizing the Nexus Solution. Nexus also offers marine safety and security consulting services to private shipping fleets, cargo vessels and cruise lines.
Visit Nexus online at: http://www.NCGA.US