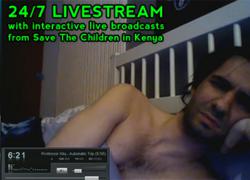 (PRWEB) April 20, 2012
YouTube icon 'Athene' is livestreaming his hunger strike 24/7, which he started April 14th in order to raise awareness around the situation in the Horn of Africa. He has raised more than $340,000 thus far and will keep up the hunger strike until mainstream media sheds more light on the Horn of Africa's worst hunger crisis in 60 years. On Saturday, a large portion of his 600,000+ fanbase will be joining him, most of which will be fasting for one day but some pledge to join him for the duration.
Athene's project counts all donations directly made to Save The Children via OpShareCraft.com. In a video linked on the site, Save The Children states that, after 3 weeks, the project has already gathered more than any other online grassroots charity event in the past. The current donation count will skyrocket if Save The Children's livestream from Kenya gets the necessary media coverage. Launching within the coming days specifically for Operation Sharecraft, viewers will be interacting and seeing the effects of their donations in real-time on Athene's livestream as he connects via satellite with Save The Children's camps.