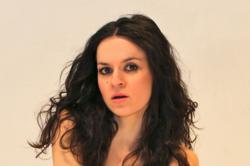 My life changed when I took dedicated action toward my dreams. I want to inspire others to go from dreaming to doing. With today's technology there is no better time than now to take ownership of your dream and make it happen.
New York, NY (PRWEB) April 24, 2012
Artist-entrepreneur and native New Yorker Suzana Stankovic, described by audiences and critics as "fearless", "brilliant", "enormously talented" and "an inspiration", will speak on self-empowerment for today's independent artist on May 6, 2012 from 3:00-7:00pm at Vlada Lounge, 331 west 51st Street in New York City. Proceeds benefit Stray From the Heart dog rescue.
The talk is entitled 'Self-Producing: Owning Your Voice and Manifesting Your Vision', for performing and visual artists who want to self-produce a public presentation of their work. The four-hour event will consist of Ms. Stankovic's talk, a meal break, post-talk Q&A and networking opportunity among the attendees.
Tickets are available by donation with a suggested donation of $45 per person and can be purchased at the door or via EventBrite.com (advance purchase is strongly recommended to guarantee a seat).
100% of proceeds from ticket sales benefit Stray From the Heart.
"Stray From the Heart is a non-profit dog rescue founded in 2000. To date, we have rescued 2,400 dogs from abuse and neglect and placed them in loving homes, all without a shelter facility. We rely entirely on volunteers and foster parents. Donations go directly toward food and medical care." - Toni Bodon and Beth Silberg, Founders, Stray From the Heart
In addition to donating use of their private event space, Vlada Lounge will contribute .50 from every drink purchase and $1.00 from every food purchase to Stray From the Heart.
"Vlada Lounge proudly supports animal welfare." - Billy Hannon, Jr., Manager, Vlada Lounge
About Suzana Stankovic's Talk:
The talk will consist of an instructional and inspirational component to empower artists to self-produce a public presentation of their work.
Ms. Stankovic will speak on the logistics of self-producing. She will cover the stages of pre-production, production and post-production and offer proven, time-tested tools, tips and how-to's for self-producing on any budget. Topics include planning, acquiring resources and funding, budgeting, team-building, marketing, audience development and self-branding, to name a few.
Moreover, Ms. Stankovic is particularly excited to speak on matters of the heart and what she calls "the artist's seat of power", the inner qualities of love, vision, self-knowledge, integrity and courage, which she believes are essential to all artists during every stage of their career.
"It's about more than just learning the mechanics of producing. It's about taking charge and doing something amazing. Self-producing is an invitation to own your voice and deliver your personal best, to stand courageously on your ground and give of what is uniquely yours. When you do that you move and inspire people." - Suzana Stankovic
Ms. Stankovic's talk is intended as a goodwill offering in honor of her beloved dog Luca, who passed away on Thanksgiving 2011, and in support of her two great passions- the arts and animal welfare.
About Suzana Stankovic (partial biography):
Suzana Stankovic is an artist, entrepreneur, producer, teacher and leader. She is a formally trained actress and dancer and an independent dance-theater artist with a voice of her own. She has created, produced and performed her own material on many of New York City's finest stages to widespread praise.
A driven woman with a clear vision and the courage and leadership to carry it out, Suzana Stankovic is making a statement both as an artist and with her larger message of self-determination.
Among her credits, 'Backstage' took notice of Suzana in 2009 and invited her to write personal essays from her life as an artist. Writing enabled her to share her message in a new way, which resulted in subsequent talks and workshops.
Suzana Stankovic is also the founder and director of The Stankovic Ballet Company, Inc., a non-profit arts organization she founded in 2003, currently expanding its mission and programming to include guidance and support for self-producing artists in every discipline. The company's new name and identity will be unveiled in the near future.
Audiences, critics and industry professionals have often described Suzana as a powerhouse- a fearless artist of astonishing range and conviction, and a woman who makes this happen.
For complete information about Suzana Stankovic:
http://www.iAmSuzana.com